Local trio Lionizer get personal on debut album New Parts Of Me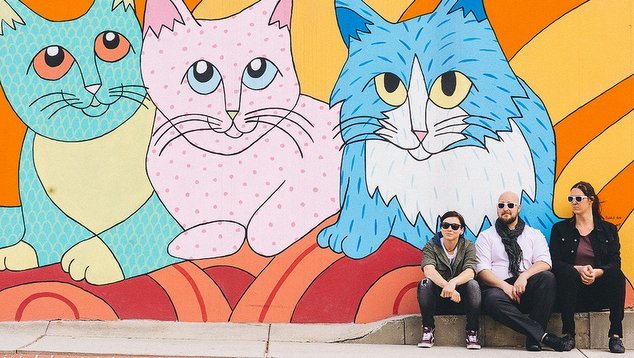 Perth indie-punkers Lionizer have just released their debut album with a killer new single and a handful of tour dates to boot.
New Parts Of Me, the first full release from the gang, deals with insecurity, suicidal ideation, self hate and self harm, but with a focus on the hope that things can be better, that there is still something worth dragging yourself out of bed for, that you don't have to buy into soul-grinding social expectations.
Songwriter Bailey Lions says one of the tracks on the album,  I Dug A Hole, is a deeply personal track and wants fans to have a clear understanding of what it's about.
"I wrote I Dug a Hole in mid-2015 while recovering from Sexual Reassignment Surgery (SRS) in Thailand. For those who don't know, SRS involves turning a penis into a vagina. Puns are fun."
"I never know how to write songs about being trans; it always seems like you have to start with "when I was a child…" to give people the proper context. But this one just poured out of me. Maybe it was the exasperation of still dealing with transphobic bullshit post op, maybe it was the tramadol and the vivid nightmares that came with it, maybe it was just the constant pain.
SRS was life changing, life-saving, probably the best thing I've ever done, but at the same time it's an intense and invasive surgery. Recovery is arduous; a seemingly never-ending painful and isolating experience that grinds you down over and over again. It's brutal – I have the photos to prove it."
Lions says that for her, the end result was worth it and she finally feels comfortable in her body – unfortunately, it did not change much about how society treats her.
"When I came home, I had to submit a change of gender application to the government, to the fucking Gender Board (who get to decide what you really are), and then to almost every company, person or department I've ever been a part of. Tax Office, post office, attorney general, electoral roll, bank, drivers license, university.
"Of those, the electoral roll is the only one that actually updated their records. I still get mail addressed to Mr Mitcham, my tax bill Mr Lions. I went to renew my drivers license recently, asked why I was still listed as male, and got told that "gender isn't included on the cards so why does it matter?". The lady was really sorry about this, her "son's a cross-dresser too" so she knows how tough it can be.
"On the streets it's a crap shoot, on the internet it's worse. Shows are still awkward, though I don't go to many that aren't small, mates-only style affairs. I still get odd looks using the women's toilets at shows too, even though it would be pretty damn hard to use the urinal now. I made the mistake of telling someone I didn't know that I was trans at some work event, they then went around to all their friends loudly proclaiming "he's a dude! could you tell?"
"And all this, after putting myself through hell and out of pocket $25,000. What more do these people want of me? What more can I do to show that no, this isn't some flight of fancy, that this is real and honest and who I am? That this isn't some fucking costume that I pull off at the end of the night? That I can't pack this away and pretend I never changed? That my gender and my body are not here at their convenience.
"And so, I Dug a Hole. A song all about the fucked up and ever expanding expectations of a society that refuses to recognise the shit I've been through. A giant fuck you to a whole country who still trots out the "men in dresses" trope at every opportunity.
A song about how, having done all this, having dug this hole to be happy, I'm still thinking that suicide makes more sense than screaming into this void. How clearly that trying to make positive change is a pointless endeavour, and how sick to death I am of these selfish, privileged motherfuckers who believe they are the arbiters of other peoples identities.
A song about getting a vagina, and all the shit that comes with it."
New Parts Of Me is available now on Bandcamp. You can also catch Lionizer this Friday November 10 at The Boston and Sunday November 19 at Mojo's Fremantle.
OIP Staff
---
Do you need some support?
If you are struggling with anxiety or depression, support and counselling are available from:
Lifeline: 13 11 14
Beyondblue: and www.beyondblue.org.au
QLife: and www.qlife.org.au
QLife are a counselling and referral service for Lesbian, Gay, Bisexual, Transgender and Intersex (LGBTI) people.
---
Support OUTinPerth
Thanks for reading OUTinPerth. We can only create LGBTIQA+ focused media with your help.
If you can help support our work, please consider assisting us through a one-off contribution to our GoFundMe campaign, or a regular contribution through our Patreon appeal.