Madonna releases violent video for disco filled song 'God Control'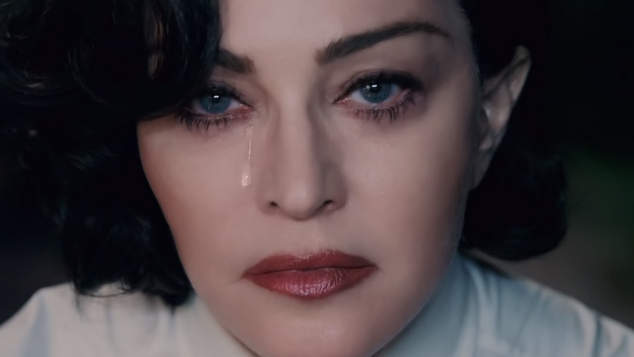 Madonna has released a confronting and violent video to promote her newest single God Control. 
The tune has been highlighted as a fan favourite on her Madame X album which has seen the superstar return to the top of the charts around the globe.
The song's lyrics speak about the need for America to "wake up" to the problem of mass shootings and the lack of gun control across the nation. The song's message is given an incongruous presentation, it's a dance tune filled with catchy and quirky raps and a classic disco sound.
The video sees Madonna appearing as her Madame X character struggling to type out a message on an old fashioned typewriter. Meanwhile scenes of a packed nightclub show party goers being brutally gunned down, before the gunman turns the gun on himself. Madonna is included among those killed in thee scene.
The video has clear parallels to the Pulse Nightclub massacre, which saw over 49 people killed, and over 50 people injured. Like the Pulse nightclub shooting the dramatised scene has a similar time setting and many hispanic people in the nightclub.
Talking to CNN  Madonna said people needed to be confronted by the reality of gun violence saying, "this is what happens when people shoot."
"Understand that this is what happens. Guns kill," she said. "A bullet rips through your body, knocks you to the floor and takes your life, and you bleed to death. I mean this is reality."
The singer said she felt a responsibility to use her music and videos to talk about important issues that affect people, saying as a mother she constantly worries about safety.
"I want to draw attention through my platform as an artist to a problem in America that is out of control and is taking the lives of innocent people. This crisis can end if our legislators act to change the laws that fail to protect us all." Madonna said in a statement about the videos release.
The video is directed by Jonas Åkerlund who previously work with Madonna on her videos for Ray of Light, Celebration, Jump and Music. He also shot several of her concert tours and directed the documentary I'm Going to Tell You a Secret.
Watch the video below.
Warning: the video contains confronting and violent scenes, viewer discretion is advised. 
OIP Staff
---