Malcolm Turnbull grilled on marriage equality plebiscite on 'Q&A'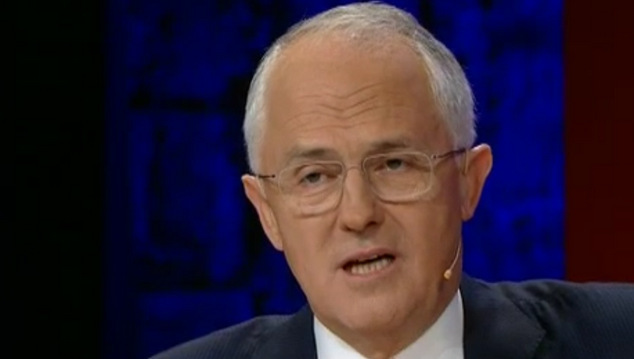 Prime Minister Malcolm Turnbull was the lone guest on tonight's edition of 'Q&A' on the ABC. The PM, who was battling a cold, at times seemed to struggle to deliver a clear answer.
Turnbull was quizzed on his commitment to marriage equality, on whether or not he'd shared his views on acceptance with members of his own party, and philosophically – who is the real Malcolm Turnbull.
The first questioner of the night said he was concerned about how much influence the right wing of the Liberal party had on Turnbull's Prime Ministership.
"Can you convince me to trust you when you've already been swayed on climate change, safe schools, Gonski and marriage equality by the ultra-conservative wing of your own government?" the audience member asked.
Turnbull said the government had a clear plan and all of their policies were on offer. He said in terms of his own position his views had not changed and he had been "utterly consistent".
"On same sex marriage…I support it. There will be a plebiscite after the election, assuming we win the election of course, and it will be held as soon is practicable. I will vote yes. I will encourage others to vote yes, and I'm confident it will be carried."
The Prime Minster said he had not made any deals with members of his own party when he was putting together the votes to replace former PM Tony Abbott, but it was part of the coalition agreement with the National party that the existing policies on climate change and marriage equality be retained.
Turnbull said the plebiscite proposal had been a popular with the electorate and would remain the coalition's policy.
"For good or ill, everyone will get a vote, and I will be urging every Australian, encouraging every Australian to vote yes."

One audience member asked the PM about his condemnation last week of comments made by Sheikh Shady Al-Suleiman.
The religious leader was invited to an official government dinner, with the PM's office failing to realise that he'd previously described HIV as being a divine punishment for gay people.
The PM was asked why he was able to quickly condemn the Sheikh's comments but appeared to hold back condemning homophobic comments made by his own party members like Senator Cory Bernardi and Queensland's George Christensen.
Turnbull said he rejected and condemned any comments that disparaged any group of Australians, whether on the basis of their race, their religion, their sexuality or their gender.
"We have a very diverse, and very successful, and relatively harmonious multicultural society." Turnbull said. "We are a very diverse nation and I think it's one of our greatest strengths, if not our greatest strength."
Turnbul said the foundation of our multicultural society was mutual respect… that mutual respect is absolutely critical. So I condemn remarks that disparage Australians whoever makes them – on the basis of their sexuality, on the basis of their religion, or their gender, or their ethnic background."
Host Tony Jones asked the PM if he'd ever shared his condemnation of disparaging comments with South Australian senator Cory Bernardi? Turnbull responded that he had taken part in "firm discussions" with a number of his colleagues.
Margaret told the Prime Minister that she didn't agree with the proposed plebiscite and she thought the money could better spent elsewhere.
"I find it an insult to actually be asked to vote for my gay son and nephew to be equal with their siblings. They are equal. You – the government, need to amend your Marriage Act accordingly to allow same sex marriage. without my vote.
The questioner said the $160 million dollars budgeted for the plebiscite would be better spent on mental health, suicide prevention and treating substance abuse. Margaret said the issue should be dealt with by the parliament.
"Show me some leadership by doing your job." she said.
The Prime Minister said the questioner was right from a constitutional law perspective and made a powerful point very eloquently but the Abbott government had made a commitment to the people that a plebiscite would be held.
"It was a commitment that reached, an agreement that was reached in the coalition party room." Turnbull said.
Turnbull said that while he was the Prime Minister, he was not a dictator, and preferred to work with his parliamentary colleagues.
"We will have that plebiscite, it will be a respectful intelligent debate, just as the Irish did." Turnbull said. The PM said some of Opposition leader Bill Shorten's recent remarks about the plebiscite had been alarming.
"I have great faith in the decency and the fundamental common sense of Australians. I believe it will be a very civilised discussion. I think if there are people that make outrageous or extreme comments they will only undo their own cause."