Marriage Equality Rally Speakers Revealed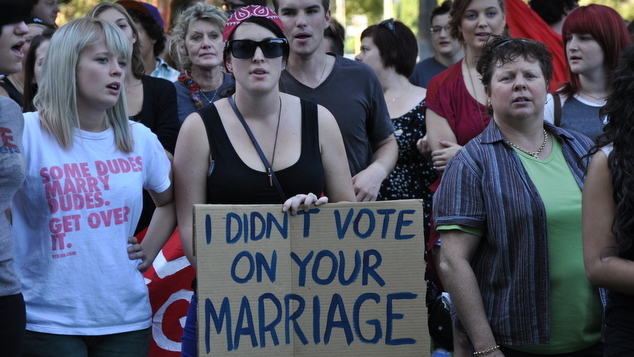 Get Up! and Australian Marriage Equality have revealed who will be speaking at Perth's massive rally for marriage equality on Sunday.
Reverend Peter Emmanuel from St Andrews Anglican church in Subiaco will speak at the event alongside Steph Hasting, grandmother of a young gay father, and Joey Cookman-McAuley same-sex mother and founder of Playgroups with Pride WA.
Also on the podium will be politicans Alannah MacTiernan from Labor and The Greens Rachel Siewert alongside Get Up! Human Rights Campaigns Campaigner Sally Rugg and the Deputy National Director of Australian Marriage Equality Ivan Hinton Teoh.
Speaking to OUTinPerth Senator Rachael Siewert for The Greens said the support for marriage equality was reaching a fever pitch.

"The LGBTI community and straight allies who have been relentlessly campaigning for marriage equality for years will be relieved and excited that the issue is reaching fever pitch in Australia.
"Following the referendum in Ireland and the Supreme Court ruling in the US, it is clear this country is falling further behind and must move quickly to achieve same-sex marriage once and for all." Senator Siewert said.
"If same-sex marriage fails to eventuate Federally, I have faith that my State colleague Lynn MacLaren MLC will work towards achieving state-based same-sex marriage in Western Australia.
"The polls have shown support for marriage equality for a while now in Australia, such huge rallies around the country show that the nation is more ready than ever for equality. The time is now".
Steph Hasting, who is the grandmother of a young gay father said she hoped to help older Western Australians understand the issue and gain their support.
"I am speaking at the marriage equality rally because I want to reach out to people of my generation to help them understand what it means as a mother to know that your children are viewed as less than equal by the Government of this country,"Steph Hasting said.
Reverend Emmanuel frot St Andrews in Subiaco said he looks forward to the day when his church can host a same-sex marriage.
"My church in Subiaco is a place of welcome for all people, including the LGBTI community. I long for the day when I can preside over the wedding of a same-sex couple," he said.
Same-sex mother and founder of Playgroups with Pride Joey Cookman-McAuley will talk about wanting her family legally recognised.
Sally Hugg, Human Rights Campaigner at Get Up!, one of the organisers of the rally spoke to OUTinPerth earlier in the week commenting on the huge response the rally has revieved on Facebook.
"It shows the overwhelming support for marriage equality from the people of Perth," Ms Rugg said.
"This is no longer an issue mostly fought by the LGBT community – we're seeing straight allies like grandparents, conservative politicians, faith leaders and people from the business community join the campaign for equal marriage rights,"

Brian Greig, spokesperson for Australian Marriage Equality told Channel Nine Today Perth News this morning that support for marriage equality was rapidly growing.
"There's been an extrodinary sea change just in the last five or six years. I remember when the Howard government brought in the ban, the anti gay marriage ban in 2004 – only about 35% of the population was in favour of same sex marriage. Now the polling shows anywhere between 60% and 72% because there has been an extrodinary change of opinion across the community." Mr Greig said.
"The people we're expecting on Sunday aren't just gay and lesbian people, but also their Mum's their Dads, their brothers and sisters, their work mates, it's very much a community campaign."
The Love in Perth: Rally for Marriage Equality is being held at 1pm in Russell Square Northnbridge on Sunday 5th July.
Graeme Watson
image: Equal Love Rally in Perth May, 2012.