Mayor of Bayswater stands up for inclusion after anti-drag flyers found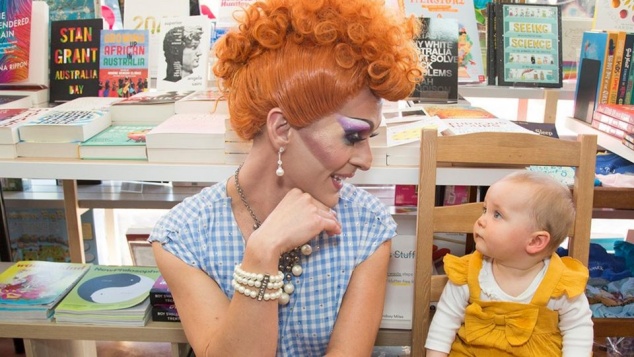 The Mayor of Bayswater has joined a wave of support for local drag performer Cougar Morrison and drag queen storytime events.
The statements come after flyers were found around the City featuring misleading information about Cougar and the family-friendly event, co-hosted by Rabble Books & Games, at the Maylands Library.
The flyer had cherrypicked adult jokes from Cougar Morrison's social media accounts, presenting them alongside images of Cougar in more revealing stage outfits and details of last weekend's event.
"The City of Bayswater are hosting a transvestite event for children and they're funding it through YOU, the rate payers," the flyer read.
"Weren't aware? Neither were we."
The flyer also encouraged complaints to both the Maylands Library and the City, providing contact details.
In a statement to OUTinPerth, Bayswater Mayor Filomena Piffaretti says the feedback the City has received about Drag Queen Storytime has been overwhelmingly positive.
"One of the best things about living in the City of Bayswater is that everyone is welcome," Mayor Piffaretti said.
"Bayswater is a place where everyone can feel safe and diversity is valued and respected."
"Drag Queen Storytime promotes early literacy while celebrating the differences that make us unique. The sessions promote inclusiveness and recognise the diversity that exists in our community."
Mayor Piffaretti also notes the city appointed its first LGBTQIA+ representatives to its Inclusion and Diversity Advisory Committee just last year.
"This is an important step towards promoting equality and equal opportunity for people who identify as LGBTQIA+ in our community and reflects our wonderfully diverse community," Mayor Piffaretti continues.
"The City promotes inclusion and values diversity in our community. The City intends to continue running its Drag Queen Storytime sessions."
Rabble Books & Games have been running successful Drag Queen Storytime events for five years now, and have a strong commitment to promoting LGBTQIA+ literature and stories.
Rabble owner and event co-host Nat Latter told OUTinPerth they will never stop hosting Drag Queen Storytime.
"This Perth chapter is the only regular drag story time in Australia and we're really proud to be able to collaborate with more and more libraries to offer these events," Latter said.
"Drag story hour is generally received with joy and excitement from the community. It's always a magical event and lots of fun to see the books read by such gifted storytellers. We do get the occasional message of opposition, usually with queerphobic and transphobic ideas – often from people who aren't even in Australia."
Latter adds that because they feel very supported by the local community, the flyers targeting Cougar were especially disappointing.
"It's hard to know how to respond to bigotry and hypocrisy. I think they should take a good hard look at themselves – they put these hateful flyers with adult content in letterboxes, making it likely that kids would see it."
"There's certainly none of that at a children's story time. Professional performers often work with different audiences and they always tailor their work accordingly. No one thinks an actor can't be on Play School because they also work with adult audiences."
"Cougar is one of the most incredible storytellers we work with and a complete professional, not to mention such a lovely human."
Latter, who attended the event as co-host, says no objectors appeared or spoke out at last weekend's event.
"Saturday's event was beautiful. There were no disruptions and the room was filled with love and support for Cougar and drag story hour.
"There might have been a few tears shed over the lovely books though."
"The story hour is a wonderful way to share a message of inclusion and acceptance amongst the next generation and all of this just reaffirms its importance."
Mayor Piffaretti and Nat's comments echo the sentiments of the wider LGBTQIA+ community, who have thrown their support behind Cougar and other local LGBTQIA+ performers.
The Court Hotel, where Cougar acts as weekly Drag Factory host alongside Fay Rocious and Donna Kebab, reflected on a recent kid-friendly show at the venue.
"Last week Cougar Morrison performed at The Court with children in the audience, she was respectful, welcoming and professional. As you can imagine, the kids loved it and we are sure it is a memory they will cherish," the statement declared.
"We are saddened to see the harmful & unhelpful disinformation spread about our beloved queen claiming she is anything other then appropriate and professional at drag story time."
Pride WA also addressed the flyers with a public statement on social media.
Cougar Morrison herself says they are grateful for the community support, encouraging the wider community to embrace the joy of drag story time.
Speaking to OUTinPerth, Cougar says the flyers were full of "hatred and chosen ignorance."
"Clearly they've never been to a story time before. They've essentially brainwashed themselves to believe (based on zero facts) that children will become queer if they attend a drag story time," Cougar said.
"I can assure you this does not happen, as I never had drag story time growing up, and I still turned out gayer than Christmas."
Cougar jokes that they are currently being held together with moisturiser and macchiatos.
"I am utterly exhausted and hurt by this, but can see the silver lining is how much support has come for the LGBTQIA+ community, for drag story time, and for me.
"At the story time, I recognised about 30 people in the crowd who I knew weren't originally coming, but changed their plans to be there and support myself and the event.
"We all witnessed how powerful and necessary having your community is."
Leigh Andrew Hill
---
Do you need some support?
If you are struggling with anxiety or depression, support and counselling are available from:
QLife: 1800 184 527 / qlife.org.au (Webchat 3pm – midnight)
QLife are a counselling and referral service for LGBTQIA+ people.
DISCHARGED: [email protected] / discharged.org.au
Discharged is a trans-led support service with peer support groups for trans and gender diverse folks.
Lifeline: 13 11 14 / lifeline.org.au
Beyondblue: 1300 22 4636 / www.beyondblue.org.au
---

You can support our work by subscribing to our Patreon
or contributing to our GoFundMe campaign.