McDonald's launch gay coming out ad in Taiwan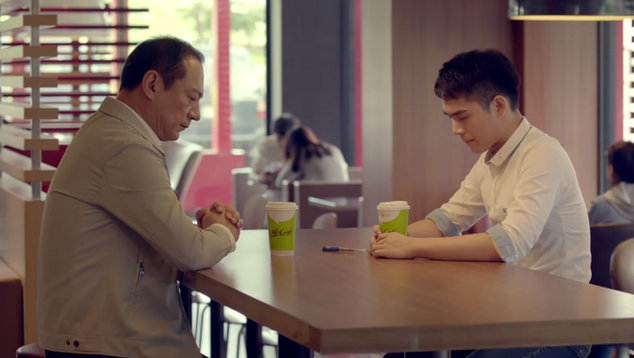 McDonald's McCafe have launched a gay friendly advertisement in Taiwan.
The advertisement shows a son coming out to his father over a cup of coffee. The son writes on the cup "I like men". At first the father appears to walk off in anger, but then he returns and writes on the son's cup, altering the message to read, "I accept that you like men".
The video finishes with the tag line "Let there be more warmth in conversations."
The advertisement has been well received on the McCafe YouTube channel where's it's clocked up over 800,000 views over the weekend. There has been anger though from religious groups.
According to Shanghaiist.com, the Alliance of Taiwan Religious Groups for the Protection of Family proclaimed that the ad would make people "feel polluted" when eating at the fast food chain.
Chang Shou-yi, secretary general of the Alliance of Taiwan Religious Groups for the Protection of Family, has urged parents and consumers to boycott the fast food giant.
In a statement to the press Chang reportedly accused McDonald's of  mis-educating children.
"Because McDonald's is frequented by many children, it is especially important to oppose the promotion of same-sex behavior," the statement added. As such, the Alliance "opposes all advertising that miseducate children on sexual behavior," and "rebukes and boycotts all enterprises that are polluting the next generation."
Taiwan is considered to be one of the more politically and socially progressive nations in Asia with marriage equality been a regularly debated issue.
It's not the first time McDonalds have had a pro-LGBTIQ+ advertisement. Back in 2010 they ran an advertisement in France that featured a gay son and Dad meeting over a McHappy Meal.
Plus here in Australia they've signed up to support marriage equality.