Midsummer (A Play With LOLs)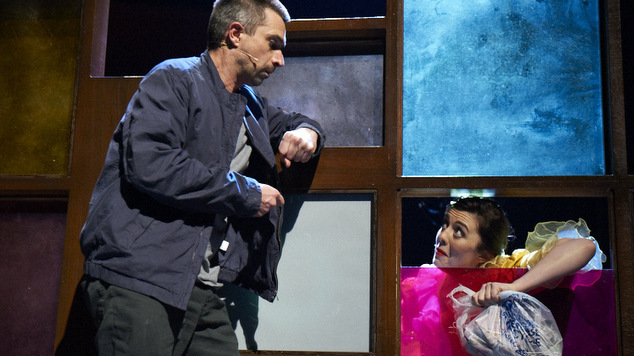 Ever woken up in the morning thinking "what the hell happened last night?", after spending an evening drinking copious amounts of alcohol? Maybe then you rolled over and saw a lump of a human being taking up the empty space in your bed? Black Swan Theatre's 'Midsummer (A Play with Songs)' follows the story of two strangers that met in a bar, got drunk and did the dirty.
The show begins with an enchanting introduction to the two characters Helena and Bob. Helena, played by Georgina Gayler is far, far gar out of Bob's league (Brendan Hanson) but they sleep together nonetheless and blame it all on the drink. Staged cleverly the characters tell and act out the story simultaneously with effortless comedic timing that simply makes the whole experience entertaining and full of laughter. After their drunken one night stand the pair is reunited in unforeseen circumstances that involves a wedding, a Tesco bag full of $15,000 and their crazy Midsummer weekend continues. We're told tales of Goth kids, Japanese bondage, accidental death and alcohol consumption that would never be considered healthy by any standards.
The props are minimal but with such an effective use of blocking and staging it's easy to be absorbed into the story. Gayler also plays an exceptional in depicting several characters and when both actors break the fourth wall it's hard not to entirely engage and be enthralled by the lovable main characters. While the singing is minimal and not that of a major musical production it's fair to remember that Midsummer is not a musical but a play with songs.
The band was delightfully visible on stage adding to the charm of the craziness that was the play.
At times they joined in with the two actors creating a little extra depth to the simple design of the production. Expect to hear all the words that your Mum told you off for saying, sex on stage, hangovers complete with purging, bondage and a romantic kiss. Midsummer (A Play With Songs) makes no apologies for its content and you'll probably find yourself ugly laughing (the kind you just can't hold in) at what is a hilarious script and shrewdly put together show.
Ryan BoldisonImage: Gary Marsh