Monday Book: Warrior Princess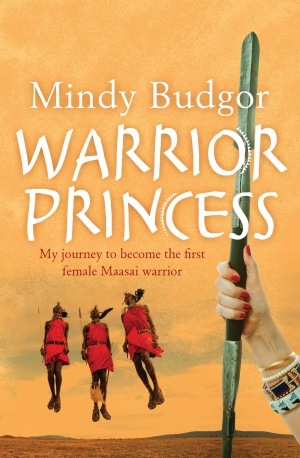 Warrior Princess
by Mindy Budgor
Allen & Unwin
In 2009, Mindy Budgor had just graduated from college and was still living with her parents in Chicago. She readily admits that she was an American Jewish princess who didn't really know what to do with her life, other than go to business school. Unfortunately, although she was fairly entrepreneurial, her college grades had been unimpressive and entry to further studies was going to be difficult. One thing she was certain of was that she didn't want to take up her mother's suggestions of losing weight and finding a good Jewish man to look after her, but she was lacking any driving passion. Deciding to take a trip to Kenya as a volunteer helping to build a clinic became a turning point. The clinic was for the Maasai people, a semi-nomadic tribe that have continued with the ancient ways, living in harmony with the land and animals.
Mindy Budgor was inspired to return to Kenya with fellow volunteer Becca Bergman because she had a crazy idea that she would be able to train to become a Maasai warrior. The only other person to become a White Maasai was Swiss woman Corinne Hofmann who married a Massai man in 1987, even though the marriage didn't survive. Entering into a culture where women were not allowed to question their husbands, Mindy and her friend wanted to prove that women were strong enough to become warriors and were prepared to give up almost all of their comforts. The gym was replaced with trekking, carting water and hunting; pillow-top mattresses were replaced with hard ground; pinot noir was replaced with drinking blood and dry leaves replaced toilet paper. Nothing like being without basic needs to get in touch with your real self!
For Mindy, the Massai's deep relationship with the land, animals and humanity highlighted how disconnected she was with her life. Also, her mission to become a warrior had huge ramifications for the Massai culture. Her book gives some insights into the physical and mental challenges the young women were faced with as they battled weeks of warrior training in the middle of the Kenyan wilds. She also relates quite a bit of humour. Mindy and Becca do become warriors and are official members of the tribe. They got to live as Maasai and see some of the difficulties facing the Massai as their lands are subsumed for the country's development. Mindy's inspirational and entertaining story is more than a fantastic read – it has had an impact on allowing all women the right to become Maasai warriors.
Lezly Herbert
Click on the image below to visit more stories from our BIBLIOPHILE collection.