My Own Private Idaho celebrates 25 years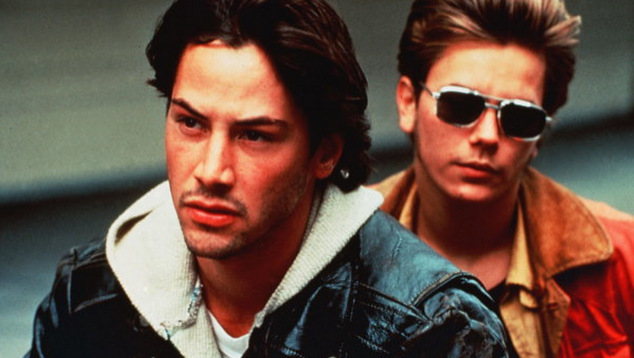 Gus Van Sant's My Own Private Idaho celebrates its 25th anniversary this week. Kyle J Kash is a young gay man who has just seen the film for the first time, Graeme Watson saw it when he was a young gay man.
Kyle's Thoughts
This is a story not of dipping your toes into our culture but rather being familiar with it and riding the waves by withholding judgement. The 1991 film My Own Private Idaho lays bare the common straight-washed LGBTI+ stories we have come to accept in 2016 and forces us to dig deeper into the root of our humanity: That we aren't just coming out stories and comedic sidelines but actual people too.
River Phoenix and Keanu Reeves (in what is possibly the only redeeming work I've seen Reeves perform in 25 years) birth a story that deals with class, abandonment, loneliness and the ever-familiar situation of unrequited love for your straight best friend. We all have a moment in our lives where the campfire scene is brutally heart-breaking for its honest portrayal of a love that cannot be due to the physical getting in the way of the emotional.
Gus Van Sant's gay hustler fable is melded with several Shakespearean epics that lends to its universality and relevance in 2016. Cut with vivid landscape cinematography and the most minimalistic fonts and colours we are transported to a time in the 1990's where grungy, indie films were abrasive and audacious enough to elevate us out of the mundane and into a hyper-reality that we can still believe. Essentially, that is what life truly is: Heightened characters that seem unbelievable, until you realise they are the very people your memory recollects.
In an age where sex and gore is splattered upon us for the sake of 'realism' My Own Private Idaho implies its grotesque side and makes it beautiful. We are treated to tableau for sex scenes and quasi-documentary interviews of twinkie prostitutes recounting their sexually violent histories.
The film dares to experiment and go where Hollywood wouldn't take us and for that it has stood the test of time, like all things queer and worthwhile it bent the rules and challenged us by causing us to empathise with drug-addled, homosexual callboys trapped in a world where they were never going to be accepted anyway.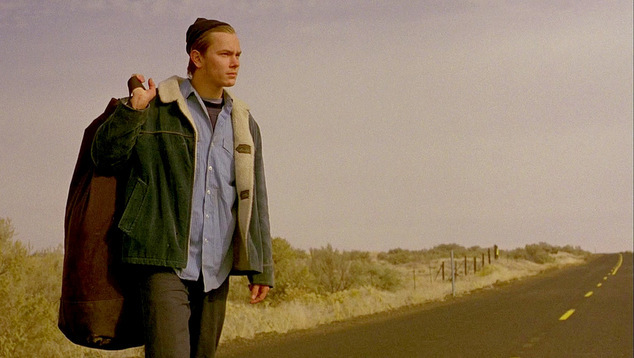 Graeme's Thoughts
The first time I saw My Own Private Idaho was at the New Oxford Cinema. I had to show my ID to get a ticket to see the controversial film. There had been news reports about how outrageous it was in its depictions of homosexuality. When I told my friends I'd seen the film, some of them were visibly shocked.
I was in love with River Phoenix. It was a love affair that began three years earlier when he appeared on the over on the UK magazine SKY. I drew his picture and put in on my bedroom wall, I watched all his movies, and now here he was in a queer film.  Thank you Santa.
There were parts of the film I didn't understand, but River was in and that scene where he jumps under the covers and makes sex noises with Keanu Reeves- that was everything.
I've watched the film many times, maybe once every five years. Each time I see new things. I find new meaning, new humour and connect with different characters based on my own changing life experience. The opening scene with the salmon and the house crashing on to the road meant nothing to me. At 18 I'd never had a house crashing experience. A few years later – I was laughing hysterically.
It's a film I've watched over and over. It's a great gauge for what we find risqué. We've gone from holding our breath when Phoenix and Reeves appeared as pornographic models on the covers of magazines in the film – to being able to access as much porn as we want on mobile phones in our pockets.
Just after I saw the film I bought a rust coloured jacket with a suede collar, just like the one River wears in the film. I was obsessed, but the love affair would end just two years later when the actor died of an overdose outside LA's The Viper Room on Halloween night 1993.
My Own Private Idaho is Phoenix's most intriguing work. I'm ready to watch it again.