Mykki Blanco Arrested in Lisbon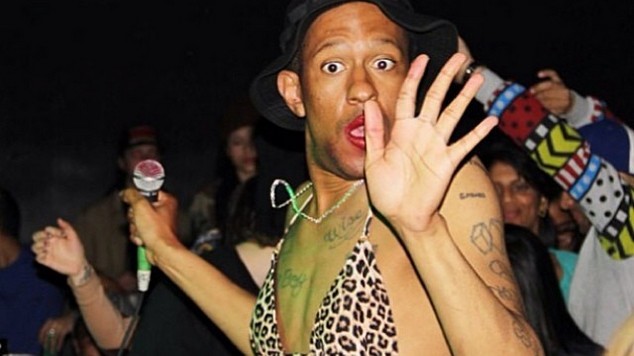 Rapper Michael Quattlebaum Jr., better known by his stage name Mykki Blanco has been arrested in Lisbon following a verbal altercation with a police officer.
The incident arose when Quattlebaum Jr. was waiting for a taxi at the airport to take him to the art gallery at which he is doing a residency. He waited in line for a taxi only to be told by the taxi attendant that he couldn't use his credit card, but only cash. A Portugese woman  said to him "I don't know why they are being so strange with you, there is a place inside to buy taxi vouchers you don't need cash." Quattlebaum then asked a police officer where he could find the voucher office, and was reportedly told to go away.
In a post on his Facebook page, Quattlebaum Jr. stated that he felt he was being unfairly dismissed while the police officer was assisting white tourists who had waited in the same line as him. He stated that when he asked the police officer why he could not help him but gladly helped the other tourists, the officer reportedly told him 'go away bicha', which is a gay slur. Quattlebaum Jr. then said 'f*ck you' to the police officer and went inside, where he was arrested for insulting a police officer. He posted a number of photos from the inside of the police station on his Facebook page, where he also posted
" I was swindled, by the Portuguese police department for being a gay black tourist that is the only explanation for this situation…"
According to Noisey, Quattlebaum Jr. was ordered to pay a fine of 600 euros.
The incident was met with a great deal of controversy on his Facebook page, with some commentors accusing him of being racist towards Portugese people, and others sending messages of support and outrage on his behalf.
Quattlebaum Jr. posted this message to his Facebook page yesterday:
"I'm leaving Portugal after my performance. Please stop writing hate speech, threatening to hang me, posting pictures of slaves and leaving gay hate messages on my page, I have seen a really disturbing side of this culture tonight"
Sophie Joske Photo: Facebook