Naked truths revealed in 'Confess'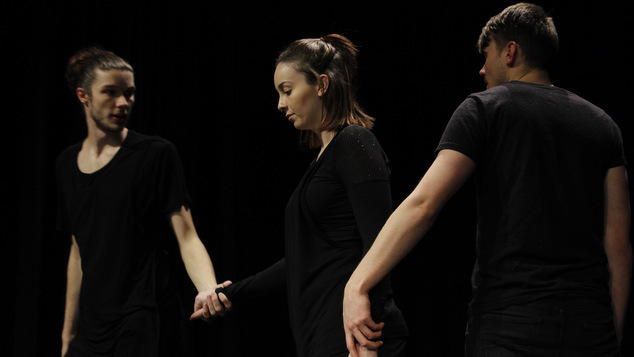 Local theatrical group The Theatre Diary caught our attention at Fringe World in 2016 with their marriage equality themed show Australia, It's Time to Clean Your Room.
This year they've got a brand new show called Confess which has been created around secret confessions that people shared with them.
The result is a verbatim piece of physical theatre.
OUTinPerth put some questions to Gregory Ryan the Artistic Director of The Theatre Diary who is also involved in the acting, producing, and writing of the show.
Your show is based around confessions people shared with you, did you find people's revelations shocked you, what kind of things did people divulge?
Yes. Perth is full of weird and wonderful people – that's what makes us the best city in Australia! Well…the people and the beaches.
Anyways, we have had some pretty shocking confessions. Most sexual, but they tend to be boring.
I much prefer juicy confessions like this one guy who lied to his parents about attending University. Instead, he went travelling around the globe, in secret, for three years! Now that's an impressive confession.
How are these presented in the show?
Upon collating the confessions from Perth, we ranked and categorised them.  Some that could form a narrative. Some that were so weird and wonderful, that they would be substantial enough to have a monologue written on them, and others that would be used for 'snapshot' scenes.
We also managed to record vox-pop confessions. Which, like our previous production, shall simply be played back to the audience during transitional scenes in the play.
Since your show is about confessions we thought it was only fair to ask you for some of your own. Have you ever stolen anything?
Oh, plenty of things! The most recent thing I stole was a university mug. I just finished my four-year degree and thought I deserved it!
What is the most embarrassing CD you own?
Gosh…I don't even remember the last CD I bought. The most embarrassing CD would have to be Aquarium by Aqua.
What is in your bedside draw or table?
Books, books…and a lot more books. I currently have a stack of books on my table, which I rotate through every night.
I'm trying to finish of the fantastic Cormoran Strike series by Robert Galbraith (aka J. K. Rowling) ,while also reading The Diary of Frida Kahlo: An Intimate Self-portrait; I Am Malala: The Girl Who Stood Up for Education and Was Shot by the Taliban; 100 Australian Poems: You Need To Know (bought from my to-be-local and favourite bookshop, Diabolik Books in Mt. Hawthorn).
Embarrassingly  I'm still reading The Goblet of Fire…one day I'll finish the Harry Potter series.
What don't your parents know about you?
Nothing. Seriously. I have a very weird relationship with my parents: I'm probably too open with them as I literally keep nothing from them. #pomsinperth
Who is the last person you told a white lie to?
It is probably my Nan as I told her I was worried about her broken washing machine. Clearly, I was not worried.
What was your worst subject in High School?
Physical Education. Hate, hate, hateeeee it! Ew. I actually got kicked out of the boy's classes in my final year of school, and I attended the female classes; I enjoyed my last year of PE by doing yoga, dancing, and ice-skating! I loved it!
Have you ever bought a bottle of Midori?
Nope. I've been given one as a gift though!
What is your guilty pleasure?
Swimming naked.
Do you believe in UFOs
No, but I'd love to think there is other life forms out there.
What do you think of people who believe in ghosts?
My Dad does, and he has some spooky stories but I think a lot of it is the human imagination having a bit of fun. Having said that, everyone has one of those un-explainable stories that just seems far too coincidental. Hmmmm.
Confess, would you walk naked through the streets of Perth back to your place while people throw fruit at you?
What is this, Game of Thrones?! I probably wouldn't. I'm a teacher…that's awkward.
Can you yodel?
Hell, yeah! I also do a pretty outstanding monkey impression.
Have you answered these questions honestly?
Yes…but I could have been a little bit more honest. #paradox
Confess featuring performers Gregory Ryan, Teegan Dean and Connor Humm in at the Subiaco Arts Centre from Wednesday January 25th. Get tickets are Fringe World.  
Graeme Watson