National Youth Week: Queer in the Year 2017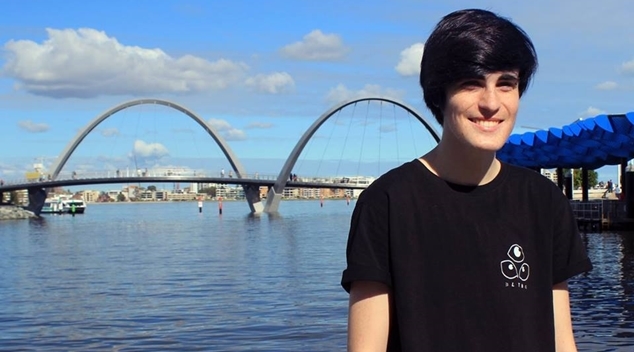 In my first grade class, my teacher asks us what we want to be when we grow up. I say 'A BOY!' and everybody laughs. I don't say those words again for a decade.
Growing up, I never hear the word transgender, only tomboy. With my ripped jeans and flat chest, I wear 'tomboy' like a uniform that never quite fits. The first time I notice my chest begin to bud, I cry myself to sleep. I am certain I am the only person who has ever felt this way.
I find out who I am from the internet. Sitting in the back corner of my all-girls school, hunched over my laptop, an 'FTM Transition Timeline' appears in my YouTube feed and for the first time in my life I'm not alone.  Within weeks, I'm living a double life. My weekends are spent with hair hidden under a beanie and ace bandages strapped around my chest. On Monday morning, I return to white blouse and tartan skirt, unsure who to turn to. Each week, it gets harder and harder to live a lie. By the time I graduate, I am so mentally ill I can barely function.
It took me four years to come out of the closet.
Since then, the world has changed for queer youth. It has never been easier to access support, information and education about being LGBTQ. A quick google search will find a variety of support groups in your area. LGBTQ-specific hotlines like QLife have come into existence. And with a bit of searching, you can find queer sex ed, no matter who you are or who you love. Even those who are scared and in the closet can live authentic lives online, with social media profiles that reflect their identity or virtual groups that can offer support and advice. Twitter has had more trans-positive hashtags than I can count. Even Facebook has 58 gender options now.
They say that hindsight is 20/20, but even looking back, I know I would never have discovered who I am without the internet. The first fifteen years of my life, I'd never seen a single person like me on TV or learned about us at school. For most of us, the internet provides the answers that others are too embarrassed to give or that we are too terrified to ask for.
Outside of the safe bubble of virtual reality, life is a different story. Each time I enter a restroom, I prepare myself for the possibility of violence. I avoid using public bathrooms whenever possible and instead wait until I reach the sanctuary of my house. The first time I went to the emergency room, they made me pee a cup. The contents were mostly blood, and it took two courses of antibiotics to cure the bladder infection. This was the first of many.
I watch my peers lose their families and friends, their jobs and their homes. I see them spiral into loneliness and mental illness. I notice the people like me curled up in city streets because shelters won't take them. I see the eulogies of friends and acquaintances appear on Facebook in a steady stream. I read about another trans woman murdered, another law passed to make our lives harder.
And yet, I watch the youth of today fighting for a better future. In spite of all the adversity that we face, we have not and will not give up. There has never been a more accepting and open-minded generation. Change doesn't happen overnight, but I am confident that when we grow old and are replaced by a new youth, they will grow up in safer and better world because of us; a world where we are all free to pee in peace.
Kai Schweizer