Nothing Chronic (Except Love) brings a unique spoken word experience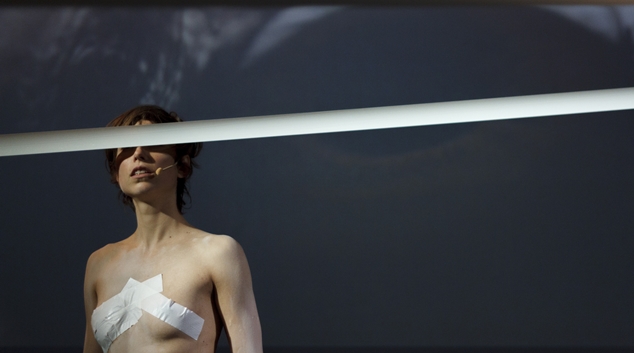 Every year we lament the commercialisation of Valentines Day, all the while scrambling as we try to book a table at that hot new restaurant. Well, if you're looking for something unique and out of the box this year – something that will wow your beau while showing how cultural you can be – look no further than Poetry d'Amour's international debut of Nothing Chronic (Except Love).
This performance work features Belgium born and based poet Maya Wuytack. In an outdoor, BYO picnic experience that merges spoken word, dance and visuals, Wuytack will be joined by sound artist and musician Hans Beckers to deliver a love-fuelled new work charged with the vitality and eroticism of love.
OUTinPerth caught up with Wuytack ahead of tomorrow's performance to find out more about this truly international spoken word experience.
What led to the creation of Nothing Chronic (Except Love)?
Nothing Chronic is a very passionate coming of age story full of love, poetry and longing. It was inspired by some terrible heartbreaks and a lot of amazing, unforgettable and hallucinatory romances. I believe poetry is a life-saving force. It is also a love-intensifying force. It has saved my life many many times, so this performance is like "first aid poetry" for a broken heart, as well as "probiotic poetry" for that flowering love.
What can the audience expect from this work?
Nothing Chronic (Except Love) explores the poetics of the body and the language of senses. We create a dialogue between language and what is older than language: an intimate dance unfolds between the dream and the dreaming body. A hypnotic score in which body, poetry and music merge. The visuals are close-ups of skin so that the body becomes a living landscape of 'skinespheres'. The aim is to soak the imagination in the underlying life forces of emotions: longing, fear, desire, goosebumps, blushing. These moments are more pure and inexplicable than our everyday 'identities'.
At its core, it is a tribute to love, and surrendering to the surprises, beauty and shock that it brings into our life. With simplicity, words, body, music and visuals merge in one poetic multiverse.
Which poets have inspired you in creating this work?
Laurie Anderson, who makes transmedial poetry performances, works that exist on the edge of music, film and spoken word. Laurie creates a total experience. Oh and also Sappho, the inventor of personal love poetry 2600 years ago. She played music while performing her poetry, and had a cult honouring Aphrodite, the Goddess of Love.
Nothing Chronic (Except Love) takes place at The Mattie Furphy Amphitheatre (next to Claire Copse in Swanbourne) with doors open at 7pm for a 7.30pm start. BYO food, alcohol, rug and enjoy a picnic under the stars.
The show will be followed by a book signing and possibility of poetry tattoos. Tickets are available here.
Scott-Patrick Mitchell