ICW Productions brings 'Oliver!' to Perth this August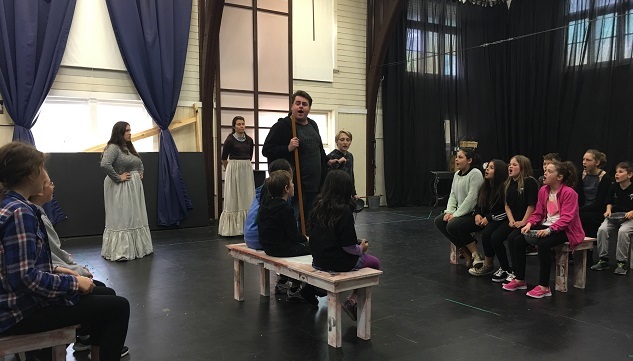 Lauchlan Edward Bain is undertaking a massive challenge, choreographing an upcoming production of the musical 'Oliver!', while local performer Dean Misdale is taking on the iconic role of Mister Bumble in the show. We caught up with the pair during a break in their rehearsal schedule.
When did you first see the musical 'Oliver!'?
Lauchlan: I remember when I was a kid it was a movie that my parents introduced me to. I grew up watching those old Hollywood movies like 'Some Like It Hot' and 'Singing in the Rain'. I just remember falling in love with the Dickensian atmosphere.
Dean: Six months ago, I had to watch the movie to prepare for the audition and then I watched few stage versions on YouTube. I was familiar with the show and the iconic songs and lines, but I'd never actually seen it.
Cast wise – it's a big musical with lots of people and lots of grand musical numbers, is that challenging?
Lauchlan: Compared to contemporary musicals, where spectacle is the show and they need that extraordinary amount of presentation to hold an audience, this is quite different. It really comes down to the writing, that's what makes it so lasting. It's a musical where you're humming to songs as you're walking in to the show.
What's it like becoming Mister Bumble?
Dean: It's been a challenge because it's so different to anything I've ever done. It's the biggest role I've ever undertaken in a musical theatre setting.
Finding him has been difficult because he's 'both sides of the coin'. When he's with the kids he's quite the controlling authoritarian figure, but when he's with Widow Corney he's a big blubbering mess who just wants to get into bed with her, and you see this other side of him.
I've done a lot of work with my vocal coach since I got the role, because you're singing in an accent, your singing in character plus 'Boy for Sale' it's a really difficult song and a beautiful piece of music, so you want to it justice.
How do you go about ensuring this version of 'Oliver!' is a fresh take on the musical?
Lauchlan: The company, ICW Productions are known for doing the classics but they're always putting their own twist on a production. When we did 'Cats' back in 2013 rather than doing the shag-pile rug version, as it was so affectionately called, we set it in this gorgeous 1930's ballroom.
Dean: Both the Musical Director and the Director have been encouraging telling us "Make it your own", 'You don't have to sing it the way you think it needs to be sung, strip it back and recreate it."
What number do you love in the show?
Lauchlan: I love every scene involving the actress we have play Nancy, Phoebe Dean is just so good. In rehearsal watching her bring the character to life has been so exciting.
'Oliver!' will be performed at The Joy Shepherd Performing Arts Centre, St Hilda's Anglican School for Girls, Mosman Park from 20 August for 7 performances. Tickets available from www.trybooking.com
Graeme Watson