Digi Youth Arts launch First Nations podcast series 'Original Influencers'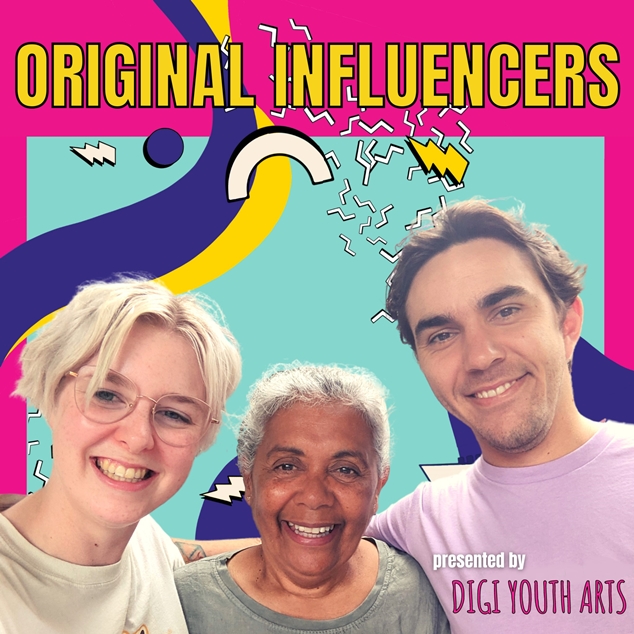 Digi Youth Arts, presents Original Influencers, an online podcast series that captures the stories of influential Elders and community members who have paved the way for Aboriginal and Torres Strait Islander young people. The series is about acknowledging and learning from Elders and community members who have paved the path and who continue to carve paths of Sovereignty for future generations.
Based in so-called Brisbane, Digi Youth Arts (DYA) creates platforms & opportunities for Indigenous young people to tell their stories through art.
DYA Lead Artistic Director Alethea Beetson says: "In 2020 Digi Youth Arts heard our community's call to significantly invest in capturing our Elders stories. This project, Original Influencers, continues DYA's remit of Indigenous young people sharing stories, this time they are doing so behind the scenes by focusing on telling Elders stories through the podcast format – which is just the next iteration of oral storytelling for us."
DYA Developing Artist & Hosts Merryn Trescott (Wiradjuri) and Loki Liddle (Jabirr Jabirr), worked alongside Lead Artist & Mentor Rhianna Patrick to develop and produce the series.
Which shares stories from featured guests: Roxanne McDonald, Roslyn Watson, Colleen Wall, Wilfred Thomas Prince, Bob Weatherall, Shellie Morris & Dennis Bobongie. Covering their experiences and stories of influence across Theatre, Dance, Film, Music, Education, as well as disability and accessibility rights, policymaking, land protection, and repatriation. Followed by a recap episode where Indigenous young people have the opportunity to reflect on the series.
The podcast provides a holistic learning process for the emerging producers involved. As noted by Merryn and Loki: "Original Influencers gives other young people and us the opportunity to learn so much from our Elders. It's super accessible and gives an amazing platform for these stories and creates a forum for young people like us to listen to stories we otherwise may never hear. We have loved having the opportunity to sit down to yarn with our Aunties and Uncles about their lives. They have paved the way for us; without their insight, guidance & stories, we wouldn't be able to do what we do today."
The eight-episode online series is continuing the long tradition of Indigenous storytelling and intergenerational knowledge sharing and ensures the stories of our communities are preserved and available for future generations. The first episode launches on Monday 19th April, with weekly episodes to follow. Episode one is all about Aunty Roxanne McDonald and her experiences in Theatre & Film.
I feel very honored and incredibly grateful to be part of this podcast series," Aunty Roxanne McDonald said.
Knowing that I have had such an influence on other people and then having that recognised in a way you don't expect. You know, you go along every day in your life trying to be the best you can be at what you do, and never expect this. It's been a long ride; 30 years have passed since being in the industry; the number of years that go by, the things you do, and the body of work you create, it's lovely to know that we're being thought of by the young ones. We know that we're in good hands."
Original Influencers will be available on all major podcast platforms on Monday 19th April 2021 and via Digi Youth Arts' website.
Source: Media release
---

You can support our work by subscribing to our Patreon
or contributing to our GoFundMe campaign.