The Pearl Fishers: Diving Deep for Inspiration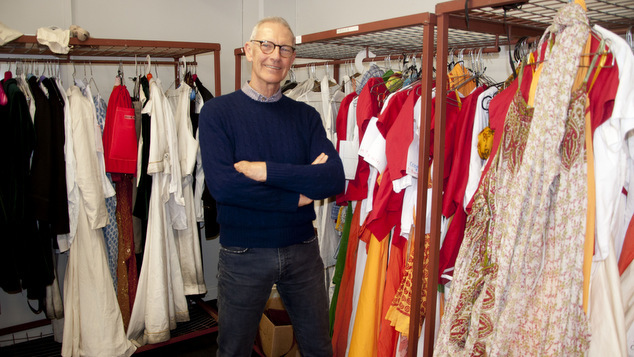 The WA Opera is presenting The Pearl Fishers at His Majesty's Theatre from 25 October – 5 November.
Bizet's great opera that was first performed in 1863 is set in ancient Ceylon and tells the tale of two men whose long friendship may be damaged by their love for the same woman.
Robert Kemp created the sets and costumes for this new production, while many forms of theatre have moved towards minimalist sets and pared back production, the world of opera still does things to the max.
"It is pretty much to the max," Kemp said of the opera world when he took us backstage and gave us a peek at the show's amazing costumes.
"It gets very technological in some places, and it gets very conceptual in Europe, but here in Australia it's very 'nuts and bolts' in terms of scenery."
Kemp reflected on his long career saying things come in cycles of fashion; "Having done it for so long now I've seen the cycles comes and go."
Sitting backstage at His Majesty's Theatre as the WA Opera prepare the staging of The Pearl Fishers Kemp chats to OUTinPerth about opera, theatre and creating the right look.
A life creating sets and costumes for the theatre has been Kemp's second career, a change from being a librarian was encouraged writer/director Michael Gow.
"I had a career for about eight years as a librarian. I was a librarian at Sydney University, I met Michael Gow and we became a couple then – 40 years ago." Kemp shared.
"I think I had a mid-life crisis in my early 20's, I thought 'How did I get into this?', 'How did I end up with a 9-5 job that I'm not really interested in?'
Gow encouraged Kemp to embrace his love of theatre and creativity and suggested stage design might be something that he would be interested in.
"I went to NIDA at the age of thirty, I auditioned, I think they were astonished that someone at that age would want to start a second career."
Now many decades into his successful second career Kemp said he's reached a point where he's almost stopped looking for inspiration.
"I've kind of stopped looking in a way. There used to be a point where I was obsessed about it, but now I'm more obsessed with story. I treat everything now with 'How does I best tell this story', and when it comes to opera – that's a real challenge – because they are incredible ludicrous." Kemp said.
Kemp said the story of Bizet's The Pearl Fishers was particularly outrageous. The designer describes the opera as a complete fantasy.
"You could easily offend half the people on earth, half the religions and half of the skin colours on earth if you just did it just as it's written. It's a total fantasy and it has that 1920's approach of respecting nobody."
"It was agony trying to find a way telling that story which was interesting and not offensive." Kemp said.
A recent trip to India, coupled with a previous trip to Sri Lanka, is something that was at the forefront of Kemp's mind when it came to designing the sets and costumes for he production.
"You always notice that in Hindu culture it is always very lively, and colourful, and exuberant. I wanted to get away from being very tasteful and theatrical and just capture what it really is like, filled with energy."
While the idea of diving for pearls is filled with great romanticism, Kemp discovered that the reality of a 19th century pearl fishing settlement was not quite so glamorous.
"The wouldn't be a village as such, a pearl fishing community just comes together for the season and everyone lives under palm leaves on the beach." Kemp explained outlining that oysters would have been left on the beach to rot, creating a terrible smell.
Bizet's The Pearl Fishers opens on October 25 at His Majesty's Theatre.
Check out this amazing time lapse of the set for the opera being bumped in at His Majesty's Theatre.