Perth Comedy Fest: DeAnne Smith is here to pay you out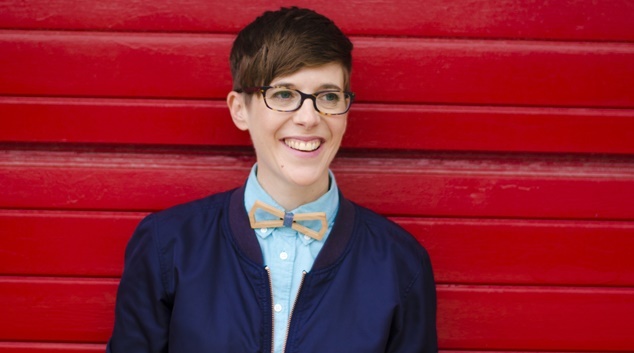 Self-described gentleman elf DeAnne Smith is bringing her award nominated comedy back to our shores for the Perth Comedy Festival.
The out comic blends a sharp wit and unexpected punchlines to take on the big issues, such as homophobia, sexism and of course, the Presidential elephant in the room.
Smith tells OUTinPerth her new show takes on Trump's post-truth era with more fake news than he can handle.
Tell us about your show!
I'm not the best at describing my own shows, or even my style of comedy. This year the show is really fun, I've called it Post-Joke Era as kind of a nod to the post-truth era and the interesting political realm that we're all in now. The show isn't too political but I definitely come close to a lot of stuff…
I'll be talking about gender, the Women's March in Washington, straight guys being the worst (and how they can be better), anti-depressants for the first time. It's a very personal show in some ways, but I hope it will be able to speak to everybody.
Do you find it difficult or therapeutic to get personal in front of an audience for a living?
For me it's really natural because the kind of comedy I'm most interested in are not just witty observations about life; thought that is fun! I really like personal comedy and I think the more specific you can be about your own struggles, the more universal it is. Maria Bamford is a great example, she's very personal and absurd.
There's a clear nod to Trump in your show's title – with all the Russian drama at the moment, the US could end up with President Mike Pence. Isn't that just as scary for the LGBTIQ+ community?
Yeah it is but at least… and it sucks we're even in this position where we have to weirdly hope for Mike Pence… but he's a somewhat sane person. He doesn't seem mentally unhinged? I don't want to defend Mike Pence but Trump is just the worst.
Do you have to edit your comedy for Aussie audiences as opposed to North America?
Sometimes. There's little references that don't hit in the same way. With this particular show I haven't run it yet so I will run it in Adelaide and see if it translates.
It's just the little things mostly, like saying "pedestrian crossing" instead of "crosswalk" because it can only take a few seconds for someone to miss the punchline.
Aussies don't really make it easy with our unique slang either.
I've come here enough so I'm pretty used to it by now. I remember years ago in Adelaide somebody in the front row said I was "paying them out" and I knew they didn't mean this… but I just took all of the change out of my pockets and handed it to them. It was a fun misunderstanding for us all.
DeAnne Smith will be at Perth Comedy Festival from Thursday May 4th – Sunday May 7th. Tickets and more information available from perthcomedyfest.com.au