Perth Wildcat Corey Webster offers apology for comments about Pride flag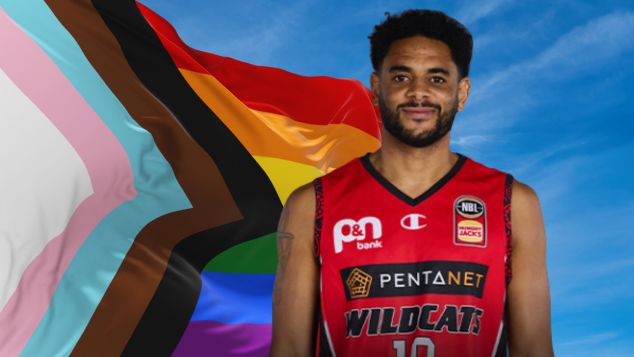 Corey Webster, a star player for the Perth Wildcats, has offered an apology after comments he made about LGBTIQA+ people were highlighted in the media.
The West Australian shared that Webster had comments on Twitter sharing his thoughts about the LGBTIQA+ communities.
On X, the social media site formerly known as Twitter, an account named Censored Men's Page displayed an image of the Pride Progress flag and asked, "What's the first thing that comes to your mind when you see this flag?"

The response from Webster's account was "mental illness".
Later he added another post saying, "Protect the Children".
After senior administrators from the club were taken in the post the comment was deleted, and the club later posted a statement saying Webster was offering an apology for his comment.
"Corey Webster has apologised for his comments made on social media, noting the offence they have caused." the Perth Wildcats said.
"Webster has conceded that his comments were insensitive. While highlighting that he didn't intend to cause offence, he understands how his comments have been perceived and that they don't align with the club's values of inclusiveness.
"Noting that he should have understood the consequences of his actions, Webster has committed to better educating himself and said he stands with the club on inclusiveness." the club said.
"While it certainly wasn't my intent, I understand the hurt my comments have caused and I am sincerely sorry for this. It wasn't how I intended my comments to be perceived and I will take a break from social media and use that time to better educate myself on the impact comments such as this can make on individuals I may have offended." Webster said.
SEN CEO of Teams, Richard Simkiss said the club was disappointed with Webster's post.
"We are really disappointed in these comments and have made this clear to Corey. They don't reflect our values, and we have committed to working with Corey to help educate him about the harm such comments can bring.
"As a community driven club, we stand for inclusiveness and have strongly supported the NBL's Pride Round. We look forward to promoting this initiative again in the upcoming season. Our values are clear – we want to bring people together in a positive way and we understand our responsibility as leaders in the community to live these values both on and off the court." Simkiss said.
NBL chief executive David Stevenson has also condemned the comments, describing them as "insensitive and harmful".
"The league is disappointed with his comments," Stevenson said.
"We want the NBL to be a safe and inclusive environment at all times and encourage the greater inclusion and wellbeing of LGBTQ players, members and fans."
"The community is critical in supporting inclusion and diversity in our society and we all must work together to encourage everyone to be themselves.
"There will always be challenges when stances and beliefs conflict with one another, but as an organisation we are committed to working together and supporting one another, with respect at all times."
Webster, who is from New Zealand, had a short stint with the Wildcats in 2017, but rejoined the team in June 2022. He recently resigned for a two-year deal.
Homosexuality was classed as a mental illness by the World Health Organisation (WHO) until 1990. The anniversary of the removal of this classification is now marked by International Day Against Homophobia, Biphobia and Transphobia (IDAHOBIT).  Gender dysphoria was removed from the WHO list of mental disorders in 2019.
In their nightly satirical take on the day's news Up Late with Ben Harvey, The West Australian shared some of Taylor's previous tweets including claims that the government manipulates the weather through "cloud seeding", and a false claim that the Pfizer vaccine for Covid kills almost as many people as the virus.   
OIP Staff, image is a digital composite. 
---
Do you need some support?
If you are struggling with anxiety or depression, support and counselling are available from:
QLife: 1800 184 527 / qlife.org.au (Webchat 3pm – midnight)
QLife are a counselling and referral service for LGBTQIA+ people.
DISCHARGED: [email protected] / discharged.asn.au
Discharged is a trans-led support service with peer support groups for trans and gender diverse folks.
Lifeline: 13 11 14 / lifeline.org.au
Beyondblue: 1300 22 4636 / www.beyondblue.org.au
---

You can support our work by subscribing to our Patreon
or contributing to our GoFundMe campaign.