Peter Abetz: Anti-Bullying Program Promotes "LGBTI Agenda"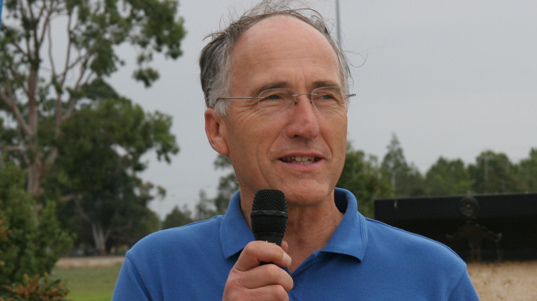 Liberal Member for Southern River Peter Abetz made a presentation to Liberal MPs at Parliament House this week voicing concerns about the Safe Schools Coalition Australia program.
The program which aims to stop anti-gay bullying in schools is due to be launched in WA in July.
Abetz told Liberal MPs that the Safe School Coalition Australia program was "a gay, lesbian, transgender lifestyle promotion program."
"The militant gay lesbian lobby is trying to get this into our schools to 'normalise' what they consider the LGBTI agenda." he said, and went on to suggest that such program were not necessary due to the tolerance of most Australians.
"I think in Australia most people are quite tolerant. Most people know someone among their relatives or workmates who is a lesbian or gay or whatever, and they don't bat an eyelid – they just accept them as human beings with inherent value and you treat them with dignity and respect."
The program's director Sally Richardson told The West Australian that the program has had a positive response since it's been adopted in over 240 schools in other states.
"Since the program's launch last June we have had a lot of interest and support from WA schools, young people and community organisations.
"We are looking forward to supporting WA schools to be safer and more supportive for LGBTI young people, teachers and families. All students have the right to feel safe at school. Only then can they achieve their very best." she said.
Shadow Minister for Disability Services, Mental Health and Child Protection Stephen Dawson told OUTinPerth Abetz' viewpoint on the issue was outdated.
"Mr. Abetz is living in the dark ages when it comes to this issue and he really needs to wake up. This is not 1960, this is 2015. I've also seen research in the last couple of days that was provided by the Safe Schools Coalition that said, I think about 75% of young same sex attracted and gender diverse people experience violence of some sort or abuse of some sort and over 80% of that abuse takes place in schools.
"There's no doubt in my mind that there does need to be a program in schools that does target bullying against LGBTI young people and I fully support it." Dawson said.
He also stated that a number of teachers have expressed enthusiasm about the prospect of the program being made available in WA.
"I hear from teachers that while they know how to deal with racial abuse in the classroom or they know how to tackle abuse of somebody with a disability. They don't quite know how to tackle the issues around homophobic bullying or transphobic bullying. So they welcome the Safe Schools Coalition program because they see it as filling a gap.
"We all have to ensure that kids can go to school and can learn in a safe environment, so it's really important that we do stamp out bullying and stamp out homophobic and transphobic behaviour in the classroom and this program I think works."
Abetz spoke on the topic on 6PR this morning, airing concerns that the program would give LGBT students "special status".
"It really gives kids who identify as gay, lesbian or transgender, it gives them a special status in that they're supposed to have a special notice board in the school, you're supposed to set up special groups and all that.
He also expressed concerns about transgender students using bathrooms and change rooms.
"But the thing I think would really upset parents is- we have 5 kids and they're all gone through school and grown up now- I would've been outraged if in the school my kids went to, if a boy, that's a person who had the male body parts, but chooses to identify as female would be allowed to go and use the girls toilets and go and change with the girls for sport in the girls' change room, that's just not on. This program promotes that."
Abetz also stated that he felt the program runs the risk of making heterosexual relationships "the abnorm".
"If you go through the website and look at the list of the they say schools should do, one of the things they should do, and this is quoting, libraries to be purged of any literature with 'heteronormative assumptions'. In other words, if you think heterosexual relationships are the norm, any literature that presents that picture should be taken out of school libraries.
"Now with all due respect, and due respect to people who are gay, lesbian, transgender, biology tells us that the norm is heterosexual relationships otherwise the species would've died out a long time ago and we definitely need to respect and treat with integrity people who have a different sexuality, no problem with that at all, but to try and make transgender, homosexual, lesbian, to make that the new norm and heterosexual the abnorm, that is just crazy and defies common sense." Abetz said.
Greens MLC Lynn MacLaren stated she believes Abetz' comments are out of touch and potentially harmful to young LGBTI people.
"Comments such as these can prolong and encourage bullying based on gender stereotypes," MacLaren said.
"Clearly, being  Lesbian, Gay, Bisexual, Transgender/Transsexual and Intersex et cetera is not a lifestyle choice, or something that you 'grow out of under the right influences', but a fundamental aspect of personal identity.
"Young people are particularly vulnerable to attacks based on gender and sexuality; this is reflected in self-harm and suicide statistics.
"I hope the one thing that Mr Abetz's comments achieve is more Western Australians speaking up against discrimination based on sexuality wherever they encounter it."
In 2013, Abetz made a submission to retain religious exemption in the Anti-Discrimination Act alongside two other Liberal MPs allowing religious aged care facilities to turn away elderly retirees for being lesbian, gay, bisexual and/or transgender. He told OUTinPerth that LGBT retirees can "can go to another aged care facility" and when asked if gay Christians can uphold Christian values he replied "on that particular aspect of their sexuality, they certainly don't."
READ MORE: Liberal MPs Want LGBT Retirees to Go Elsewhere
Sophie Joske