Peter Abetz out of state politics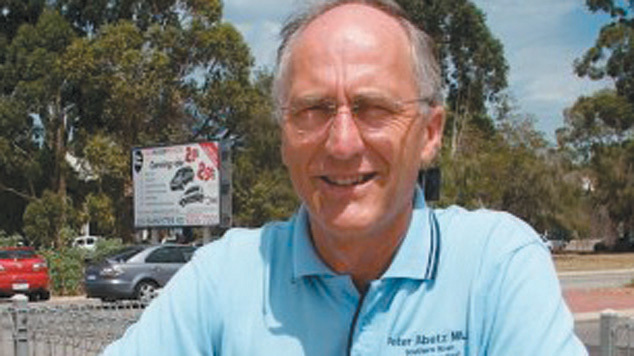 Liberal MP Peter Abetz has conceded his seat of Southern River bringing to an end his time in state politics.
The conservative MP told radio station 6PR that he had lost his seat, and if his seat has been lost, then the Barnett government had lost the election.
Labor's Terry Healy is the new member for Southern River. The former political staffer and local school teacher will take a seat in the parliament as part of the new McGowan Labor government.
The swing away from Abetz on early polling results was an incredibly high 20.3%
Abetz has held the seat of Southern River for two terms, first being elected to the parliament in 2008.
Over successive elections he built his margin up to an extremely safe 17%, but electoral boundary changes saw him lose Liberal supporters in the more affluent Canningvale area and gain traditional Labor supporters in the lower socio-economic suburb of Gosnells. Following the electoral boundary redistribution his margin dropped to 10.1%
Acknowledged as a hard working campaigner the MP has been door knocking constituents for months and their letterboxes have been inundated with never ending promotional material.
While Abetz tried to convince voters to judge him on his record of improving transport links, road safety and community services in the area, he has also been an outspoken opponent of marriage equality, the Safe Schools program and argued that transgender primary school students should be excluded from competitive sports.
---
---
The Liberal MP has voiced his opposition to marriage equality in the state parliament on several occasions.   
In 2015 when the state parliament passed a motion saying the federal government should drop their plans for a plebiscite and hold a free vote on the issue of marriage equality Abetz was one of the loudest voices opposing the move.
In his speech Abetz said despite all the calls for marriage equality, gay and lesbian people were not actually in favour of getting married, preferring instead to have open relationships.
"I find it interesting that various reports indicate that in the Netherlands, where same-sex marriage has been available for quite a number of years, only four per cent of gays and lesbians in long-term relationships have chosen to marry.
"When they were asked why not, their response was, "It's not marriage." The reason for them saying that, particularly among homosexual men, is that they generally want what they term an open relationship" Abetz told parliament.
The MP was criticised in 2016 when he suggested that new federal Labor senator Patrick Dodson should advocate for traditional marriage because Abetz believed most indigenous people supported traditional marriage.
The speech was criticised because the ratification of replacement senators for the federal parliament had traditionally been a formality. Abetz was also frowned upon because Dodson, a respected indigenous elder, had previously voiced his support for marriage equality.
In 2015 Abetz responded to reports that a transgender student was attending a primary school within his electorate by saying that it was likely 'a phase' that the child would grow out of.
Abetz said it was not appropriate for the 8 year old child, who was assigned male at birth, to complete in school sports activities.
"I think what the school could have done is gone to the parents and say, 'We appreciate that you have the view that your son identifies as a girl, but from a practical perspective this is going to create a lot of difficulties at the school and if he doesn't want to run the cross country as a boy he can stay on the sidelines'," Mr Abetz told the Sunday Times. 
Prior to moving into politics Abetz was a pastor at the Christian Reformed Church of Australia. The father of five is the brother of federal politician Eric Abetz.
Graeme Watson