Pink Ink: find out more about the history of LGBT publications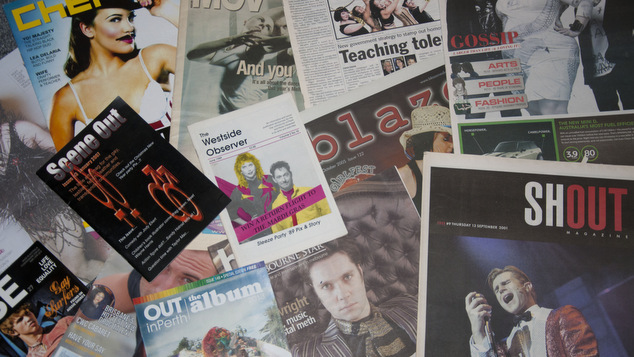 OUTinPerth is up to it's 183rd issue, we've been Perth's LGBTIQ media outlet for 14 years. We follow in the footsteps of Q-West, Shout, The Westside Observer and other queer publications that came before us.
When did queer publishing start in WA? We'll admit we didn't know precisely, but Bill Calder – a man whose been a publisher of queer magazines in the past, brought us to speed.
He's just about publish Pink Ink: The Golden Era for Gay and Lesbian Magazines a new book that collates the research he completed for his PhD into the history of gay publishing in Australia from 1970 to 2000.
You were a part of the gay publishing world, publishing Brother Sister, Melbourne Star and BNews, what did your research reveal that you didn't already know?
I think the most fascinating thing was going right back into the '70s and '80s which was an era that I wasn't publishing in, my publishing was in the '90s. The world really changed a lot across that period of time. Going back and hearing about the problems and difficulties that were being faced in the '70s and the '80s revealed a very different world.
Where did gay publishing start in Australia?
It was very much liberationists, is what I refer to it as, it was a movement that came out of the left, it was inspired by the women's movement and the black rights movement and the counter culture movement.
There was publication called Camp Inc that had a focus on wanting to totally change society, in more ways than just equal rights for gay people.
That changed in the '80s the emphasis became much more about community, building gay communities and having equal rights. It was a big switch that occurred between the '70s and the '80s.
How does Western Australia compare to the rest of the country, were we onboard at the beginning or did things in other states came later?
Everything was in Sydney and everyone else came later. There was the organisation C.A.M.P – the campaign against moral persecution, that published Camp Inc and it had members in Perth.
Melbourne started to have its own publications in the '70s and there were some early publications in Perth too. Purple Press was produced from the early to late 1970s. It was a partly typed, partly hand written publication made by a man named Ray.
More professional publications came in the '80s. There was an attempt by some university students in the early '80s, a free A4 sized publication called Western Gay, but it was probably the Westside Observer that established a strong media presence in 1987.
When we look back over older issues of queer magazines they have certainly changed in style and content. When did they start to look more professional?
The big improvement in the '90s was the ability to attract advertisers. That allowed publications to expand, to publish more frequently, to introduce colour and gloss and a whole range of new features.
This was really important to papers like the Westside Observer which were given away for free. It was very much underpinned by advertising. That advertising reflected a couple of things, it reflected the growth of community, there were bookshop, festivals and gay organisations that took off in the '90s.
They generated a lot of activity for the newspapers and in turn the newspaper helped promote those groups, events and businesses. There was a real co-dependency between the community and its media, but it really helped both to grow significantly.
How do you look at the world of queer publishing today?
Well, it's increasingly a digital world, which is the same phenomena that is happening to media broadly. I think it's hard to know how that is going to play out.
It's a very dramatic switch that has happened in the last ten years. A lot of people wonder what it all means, it's certainly changed the definition of community as people used to go to venues to pick up magazines and meet friends, increasingly now that is happening online.
There's a very vibrant community online, but it's certainly impacted on the business model for newspapers, it's much more challenging in the digital world.
I think its important that we find that business model for the digital world because it allows newspapers to employ people who can moderate content, maintain good standards of content.
I'm hopefully that there will be further developments in the digital world that will allow for a business model that will allow for quality media to exist.
As you went on this journey looking at gay publications over the decades which ones were your favourites?
There were some quirky ones that were kind of fun, Purple Press was a fun one.
There's really significant ones too like Camp Inc, which was the first. John Ware put a lot of work into creating feature articles that would debate the issues of the day.
The Sydney Star was a really important one, that flowed on to become the Star Observer.
From your own time in gay publishing, what was the biggest challenge.
Probably money to be honest, especially at the beginning.  It did improve overtime. We started Brother Sister in '92 which was kind of a good time to start in many ways, it was the turning point of where newspapers became viable, but the first few years were really tough.
Bill Calder's book Pink Ink: The Golden Era for Gay and Lesbian Magazines can be ordered from Cambridge Scholars.   
Graeme Watson