Pressure on Midsumma Festival to drop News Corp sponsorship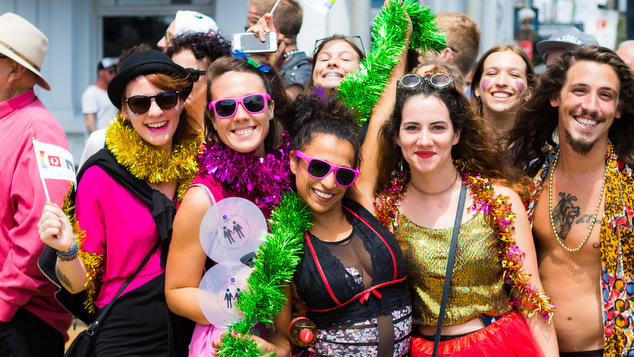 Melbourne's Midsumma Festival is facing a community backlash and is under pressure to drop one of its major sponsors.
A change.org petition has been launched calling on the organisation's CEO Karen Bryant to cut ties with News Corp the publisher of The Australian newspaper and Melbourne tabloid The Herald Sun.
Concern about the sponsorship deal was first raised on the radio program Saturday Magazine on Melbourne's JOY 94.9. Bryant, who is new to the role of CEO, told the show that she wasn't familiar with the sponsorship agreement and would have to look into it.
The petition was launched by local community member Rob Edward Smith who argues that the media conglomerate is waging war with the LGBTIQ community.
The company has in recent times published a significant number of articles criticising the Safe Schools Coalition anti-bullying program. Outspoken columnists including Miranda Devine, Rita Panahi, Chris Kenny and Andrew Bolt regularly pen articles that are critical of marriage equality, transgender people and the LGBTIQ community.
Signatories of the petition have shared their concern about the sponsorship deal.
"Taking money from an organisation that incites such hatred against the LGBTI community & does such damage – is shameful and wrong." Greg Curran wrote.
Ron Thiele, a former Chair and life member of the organisation, described the sponsorship arrangement as naive.
"This is an incredibly naive decision, an appalling decision and it would be best for the board to rescind it immediately, admit the mistake and take the consequences."
On Friday, Jewish LGBTI group Aleph Melbourne announced it would be pulling out of the 2017 parade. The group has been part of the event for almost two decades.
Spokesperson Michael Barnett told BuzzFeed News the group felt it could not be part of the march knowing Midsumma had accepted money from News Corp.
"A queer organisation taking money from an organisation that pays these people [referring to conservative columnists Miranda Devine, Andrew Bolt and Rita Panahi] is deplorable. Aleph can't be party to that," Barnett said.
The organisation's Chairman, John Caldwell, took to Twitter and said the organisations would be consulting widely and making a decision that was best for the community.
The organisation's head, who is a outspoken anti-bullying campaigner, also described some of those complaining about the News Corp deal as bullies. Caldwell said the attacks being directed at the staff of the organisation were vile.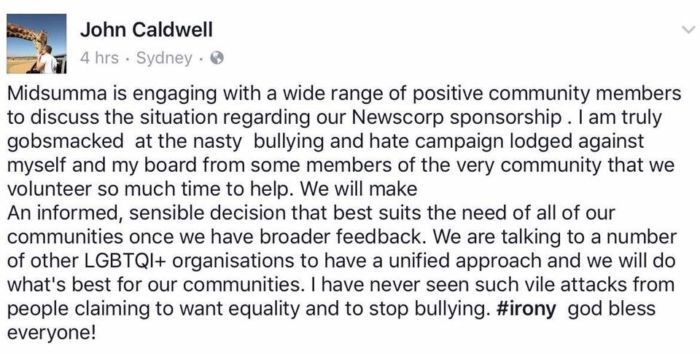 Caldwell later announced that he would be deactivating his personal Twitter account due to the level of bullying and trolling he was experiencing.
Update 
Midsumma has announced that they will be reviewing their sponsorship agreement with News Corp. The organisation said in a statement that they shared the communities concerns about opinion pieces published in News Corp's suite of newspapers.
The festival organisers said they appreciated the feedback from the LGBTIQA+ communities and the media, highlighting that the agreement with News Corp was now in it's second year of operation.
"We appreciate the patience exercised while Midsumma engages in robust internal and external discussions with stakeholders and Midsumma community members about the issue." Midsumma said in the statement.
"On Friday, we responded to social media feedback highlighting that Midsumma is taking community concerns very seriously. Despite the weekend, consultations with our partners and other significant stakeholders have commenced and will continue this week.
"Midsumma Festival acknowledges the ongoing risks and continued discrimination faced by our LGBTQIA+ communities. As always, we seek to ensure that all partnerships engaged with the festival provide broader platforms for our participants' voices to be heard and our events to be highlighted. We seek to provide a platform for positive stories from within our communities, and much needed awareness of LQBTQIA+ issues.
"We share community concerns regarding editorial and opinion pieces published by News Corp that have inflamed the discrimination we face, especially pertaining to issues of significant importance to us, such as the Safe Schools program."  
CEO Karen Bryant said the review would have no effect on the organisation's ability to continue in its role as a key LGBTIQ organisation in Victoria.  
"The partnership at this time is certainly under review, and does not affect whether Midsumma Festival continues as a key organisation delivering a significant cultural platform for LGBTQIA+ communities in Victoria.
"Midsumma management and board are not afraid to make hard decisions however these can only be reached with adequate consultation and consideration.  We wish to ensure constructive outcomes that best serve both Midsumma and our communities."
Midsumma provided greater detail about their agreement with News Corp highlighting that it was not a cash based agreement.
"The partnership with Herald Sun has existed since the 2016 Midsumma Festival, and while it sits with the current Gold Status within the Midsumma Partner program, it remains essentially a media partnership from which Midsumma receive high-value contra advertising and editorial opportunities.
"The only change for the 2017 partnership was a request that the Midsumma Program Guide displays the News Corp logo rather than Herald Sun.  
Update: 2:20pm 29th November, 2016 – comment from Midsumma added. 
OIP Staff