PRIDEFEST Highlights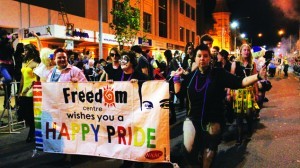 With PRIDEFEST just around the corner, the team at OUTinPerth noticed just how much there is to look forward to during the month of celebrations. Here are the six PRIDEFEST events we are most excited about.
PRIDEFEST Laughs
Two of our favourite gay comedians are coming to town with their explosive comedy shows at this year's festival. We cannot wait for the opportunity to watch Rhys Nicholson and Tom Ballard deliver comedic genius. PRIDEFEST laughs will be downstairs at His Majesty's Theatre at 7.30pm for four massive nights. Head down from the 24th to the 27th of October. The comedians will be performing two nights each! You can grab your tickets at His Majesty's Theatre.
PRIDEFEST Fairday
Grab your rainbow flag and head down to Russel Square for PRIDEFEST Fairday on Saturday the 6th of October. Val Nourished and Feminem are hosting so we figured it's bound to be a fun-filled day. Expect drag shows, DJ sets, live music, games and stalls. Don't expect to pay entry if you're under 18! The day is a licensed event so no BYO. OUTinPerth will have a stall so come say hello, we have a whole heap of fun things in store for you.
Wynter Gordon at The Court Hotel
Straight from the US music sensation Wynter Gordon will be performing down at The Court's Full Moon Street Party, we can't wait to hear her Dirty Talk. On Saturday November 3rd the party kicks off. The event starts from 7.30pm and will run right through to 4am so bring some flat shoes. Also featuring on the night, the famous Bucking Penis, our favourite drummer Skarlett Saramore and heaps more – grab your tickets from The Court or Eventbrite.
Happy Pride at Connections
On Saturday October the 6th Connections will be putting on another momentous drag show to commemorate PRIDEFEST. Doors open at 10pm, head down to watch 'A Deeper Love: The PRIDEFEST Show' starring Barbie Q, Hannah, Sheila, Jake & Nicholas. Amazing drag shows really encapsulate diversity and pride for the OUTinPerth team; we can't wait to see what they deliver. Get in before 11pm to pay $10 for a ticket, $15 thereafter. We think it's a great way to finish up FairDay.
Campdown at Honey Lounge
So here's what's happening. OUTinPerth want to know what YOU guys think is the campest song of all time. Send your favourite camp song to [email protected], then vote on your favourite from the top 40 shortlist at www.outinperth.com. Come to the official 'Campdown' countdown at Honey Lounge on Saturday October 20. Have a cocktail and dance to the campest songs you voted for. Doors open at 7pm, tickets are $10 presale from our website or $15 on the door.
PRIDEFEST Pride Parade
Float time! We love standing on a float proclaim our gay pride to the world, so come join us! Email [email protected] if you'd like to be part of our float this year. The parade starts at 8pm on Brisbane St, and makes its way through William St and James St, finishing at Russel Square. It's also not too late to enlist your own float, visit www.pridefestwa.com.au. The Parade which is held on November 3rd attracts thousands of people down to Northbridge each year, we're excited.
For information on other events happing during PRIDEFEST go to www.pridefestwa.com.au