Prime Minister: Whose side are you on?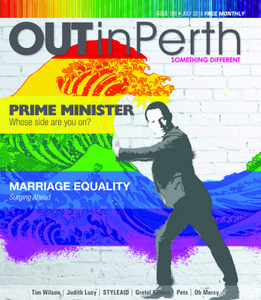 OUTinPerth's July issue, which will be released tomorrow morning, features a satirical image of the Prime Minister fighting the growing wave of support for marriage equality.
Western Australia's free monthly publication for the LGBTIQ communities has highlighted how many people in the community feel about Prime Minister Tony Abbott's continual dismissal of the calls for marriage equality.
Inside the magazine Editor Graeme Watson writes in the opening editorial;
EDITORIAL
Today as we were working on this July 2015 edition of OUTinPerth we were reflecting on the massive amount of discussion about marriage equality currently before us.
Facebook is awash with rainbow profile pictures, over 26 million of them. We'd not yet stopped riding the wave of enthusiasm that the Irish referendum brought, when more encouraging news has come from the USA where the Supreme Court has made a final decision.
Watching President Obama's speech live on Friday night was inspiring. President Obama said the Supreme Court's decision had made America a little bit better, but acknowledged that it was the countless activists who had fought for decades to make the world better. As the President of the USA said;
"…it's the consequence of the countless small acts of courage of millions of people, across decades, who stood up, who came out, who talked to parents. Parents who loved their children no matter what. Folks who were willing to endure bullying and taunts, and stayed strong, and came to believe in themselves and who they were. And slowly made an entire country realise that love is love."
Here in Perth we're amazed by the response to the call out for the marriage rally on Sunday July 5th. As of this evening over 15,000 people have voiced their support for marriage equality. This afternoon the news came that a cross party bill will be put forward in the next parliamentary session.
Almost immediately came the news that a spokesman for our Prime Minister was already saying that the private members bill would unlikely make it to a vote or be discussed in the coalition party room meetings.
We keep hearing that there is an enormous silent majority who have yet to be consulted on this issue, that people in the bush, and migrants, and older Australians, haven't had a chance to speak about this issue.
If even half of the 15,000 people expected at Sunday's rally turn up it will be a massive show of wide spread community support for marriage equality. And while we may be asked to 'take a breather' and wait for the greatly rumoured silent majority, I can't help but hear the words of the writer Aaron Sorkin. "Decisions are made by those who show up."
The call is loud and clear, the polls show over 50% support in every single age demographic. The signs that there is a clear majority on this issue are many. As the Irish Health Minister Leo Varadkar said as the counted the votes in Ireland.
"People from the LGBT community in Ireland are a minority. But with our parents, our families, or friends and co-workers and colleagues, we're a majority."
Front and centre we have our Prime Minister ignoring the people. Telling us it would be an issue for the party room before the election and then saying it wouldn't be discussed when the issue arose. Teasing us a nation about how the issue of marriage should be owned by the whole parliament, but then fragrantly dismissing cross party support when it appears.
Our Prime Minister is an embarrassment. Not because of his personal strong views against marriage equality, but because of his repetitive dismissal of ours, the majority of Australians.
Graeme Watson [email protected]
1st July 2015
Pick up a copy of OUTinPerth at over 300 locations around the city or read it online.