"Promotion of lesbianism" complaint dismissed by Advertising Standards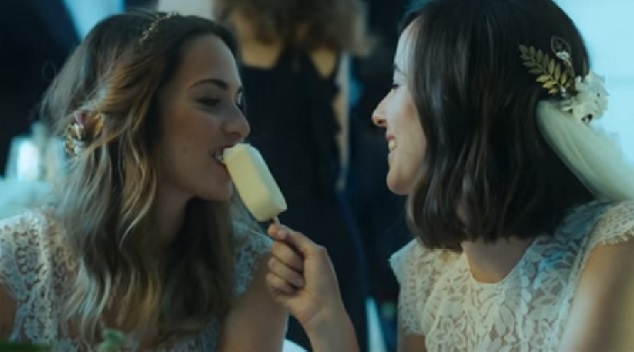 An advertisement from ice cream brand Magnum has been given the all-clear by the Advertising Standards Board (ASB) after it received complaints over its LGBTIQ content.
The pro-marriage equality advertisement shows two women getting married and enjoying a Magnum ice cream together following the ceremony, accompanied by the hashtag #PleasureIsDiverse.
A complainant told the Advertising Standards Board that the ad promoted "lesbianism during family time," and should be removed.
The full complaint reads; "Promotion of lesbianism during family viewing time. I know this will not be taken seriously as ramming this down our throats now happens daily."
Magnum creators Unilever have dismissed the complaint, acknowledging the advertisement fell into the "general unrestricted" category and could be played any time outside of pre-school programming.
A statement from Unilever to the ASB said the imagery was in line with prevailing community standards "which treat gender and sexual preference fairly, impartially and tolerantly."
"The complainant may regard homosexuality and homosexual acts as being contrary to his/her religious or ethical beliefs," Unilever representatives continued.
"The advertisement, in particular the wedding and kissing scene, is not portrayed in a humorous over-the-top way, it was filmed in a cinematic way and shows a serious depiction of a wedding ceremony.
"Consumers viewing the advertisement are not being prejudiced or treated or portrayed unjustly or unfairly by the imagery in the wedding scene."
The Advertising Standards Board noted that the issues of sex, sexuality and nudity were treated with sensitivity to the audience and dismissed the complaint.
"The Board noted that the advertisement depicts a same sex marriage which is not currently legal in Australia but considered that it is not the Board's role to say whether a particular issue or scenario can or should be depicted in an advertisement."
OIP Staff