Protesters drown out Kellie-Jay Keen's Hobart appearance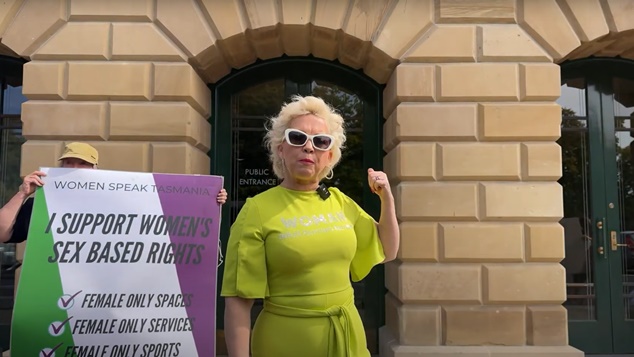 Tasmania showed its support for transgender people when protesters dramatically outnumbered attendees at Kellie-Jay Keen's Hobart appearance.
Warning: This story has details of anti-transgender views which might be distressing to some readers. For 24-hour crisis support and suicide prevention call Lifeline on 13 11 14. For Australia-wide LGBTQI peer support call QLife on 1800 184 527 or webchat.
The British activist, who voices anti-transgender views, has been touring Australia with her 'Let Women Speak' open mike event and in each Australian city protestors have outnumbered supporters, but in Hobart today the ratio was estimated to be 10 protesters for every supporter after only a small group of people turned up to take part in the event.
After voicing frustration at the noise made by protesters Keen relocated from the park opposite the parliament to take up a position in front of the doors of the building, but the sound of the protesters dominated. Among the crowd were Greens and Labor MPs and chants of "Go Home Posie, Go Home" filled the air.
As protesters chanted at Keen, she increasingly began making personal comments about individual protesters, swearing and describing them as "groomers".
Keen, who appears online using the moniker Posie Parker, has previously argued that transgender people should not be allowed in single-sex spaces, and that transgender youth should not be able to access medical treatments. Keen has previously been accused of being transphobic and having links to far-right groups.
Kellie-Jay Keen, who describes herself as a women's rights campaign, says describing her as "anti-trans" is defamatory. At her Adelaide event she declared "trans doesn't mean anything".
Her appearance in Melbourne on Saturday drew crowds of protesters and a neo-Nazi group.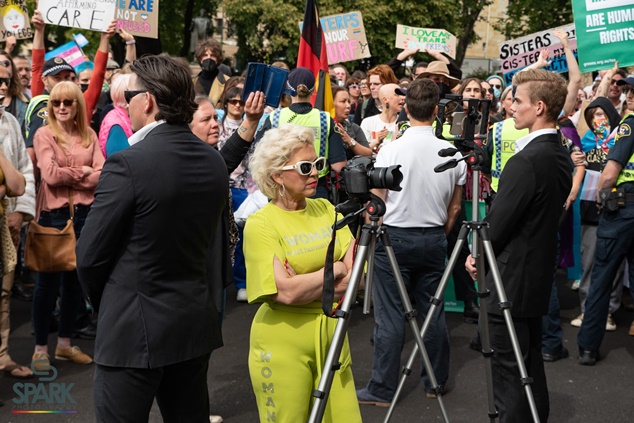 Kellie Jay Keen is drowned out by protesters in Hobart, image Rod Spark Photography
Hobart councilor Louise Elliot was one of the few women who spoke at the event, prefacing her speech with the caveat that she was making it in a personal capacity. Sharing her opposition to transgender women being included in the women's category in the sporting events, Elliot said there needed to be sperate space for transgender women.
Elliot recently proposed Hobart city council should create separate spaces for transgender people, but her proposal was knocked back by her council colleagues.
The politician then went on to claim that Tasmanian teenagers were undergoing gender reassignment surgery and there needs to be more research into people who detransition.
Elliot said she believed gender dysphoria was real, but some people were choosing to be transgender or non-binary to "gain attention and stand out."
Equality Australia said around 400 people had turned out to protest Keen, and most had been involved in a peaceful protest that saw people sitting down to show they were not "standing for transphobia."
"As the vigil progressed, some attendees gathered around Kelly-Jay Keen and shouted her down despite directives from Equality Tasmania not to confront or engage with Kelly-Jay Keen or her supporters." the group said.
Equality Tasmania spokesperson, Rose Boccalatte, said the large turnout to the Tuesday afternoon event showed Tasmanians rejected Keen's message.
"The large turn out in support of trans and gender diverse people shows Tasmanians embrace inclusion and repudiate hate."
"Tasmanians are tired of a small minority stirring up unfounded fears about trans people and undermining our progressive discrimination and gender recognition laws."
"The takeaway message of the event is that the majority of Tasmanians support rans and gender diverse people".
"We understand the community's pain and frustration, however Equality Tasmania was very clear that we did not condone confrontation or engagement in any form with the anti-trans rally."
"The vigil was organised as an opportunity for Tasmanians to show solidarity with their trans and gender diverse siblings, and that was achieved." Boccalatte said.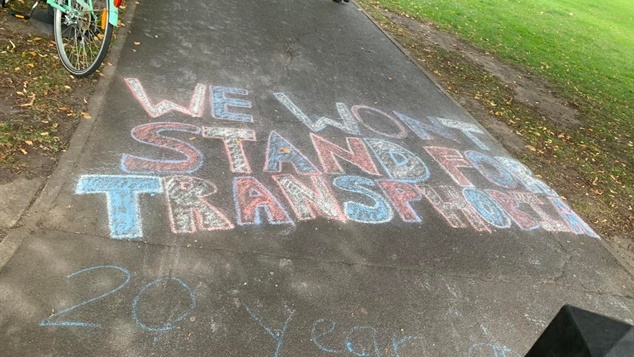 Keen's final Australian appearance will be in Canberra on Thursday where she will appear on the lawns outside the Australian parliament.
See photographs from today's event. 
OIP Staff
---
Do you need some support?
If you are struggling with anxiety or depression, support and counselling are available from:
QLife: 1800 184 527 / qlife.org.au (Webchat 3pm – midnight)
QLife are a counselling and referral service for LGBTQIA+ people.
DISCHARGED: [email protected] / discharged.org.au
Discharged is a trans-led support service with peer support groups for trans and gender diverse folks.
Lifeline: 13 11 14 / lifeline.org.au
Beyondblue: 1300 22 4636 / www.beyondblue.org.au
---

You can support our work by subscribing to our Patreon
or contributing to our GoFundMe campaign.