Kellie-Jay Keen event attracts supporters making Nazi salutes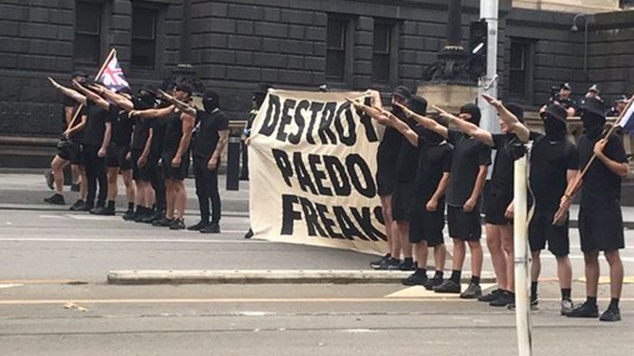 There have been violent scenes in front of the Victorian Parliament as police clashed with people protesting against anti-transgender speaker Kellie-Jay Keen, while a neo-nazi group appeared alongside the 'Let Women Speak' event.
Warning: This story has images and content which might be distressing to some readers. For 24-hour crisis support and suicide prevention call Lifeline on 13 11 14. For Australia-wide LGBTQI peer support call QLife on 1800 184 527 or webchat.
Clad in black and wearing masks, members of the alt-right National Socialist Movement paraded along Spring Street under a police escort while performing nazi salutes at the protesters. Later they gathered on the steps of the Victoria parliament adjacent to Keen's event and posed for cameras.
Keen, who appears online using the moniker Posie Parker, has previously argued that transgender people should not be allowed in single-sex spaces, and that transgender youth should not be able to access medical treatments. Keen has previously been accused of being transphobic and having links to far-right groups.
Kellie-Jay Keen, who describes herself as a women's rights campaign, says describing her as "anti-trans" is defamatory. At her Adelaide event she declared "trans doesn't mean anything".
Her open-mike event has toured Australia, so far appearing in Sydney, Brisbane, Perth and Adelaide. Following today's event in Melbourne she is travelling to Canberra and Hobart, before moving on to New Zealand.
At each event her supporters have been outnumbered by protesters and their chants have often been drowned out her followers' speeches. As she's travelled the country protesters have chanted "Posie Parker you can't hide, you've got nazis on your side."
A recent report in the UK linked Keen to the growing tide of anti-transgender sentiment and highlighted her links to far-right political groups. At one of her recent events in the United Kingdom one of the speaker's began quoting Adolf Hitler's Mein Kampf. 
The annual 'State of Hate' report from Hope Against Hate noted far right extremism is growing in the United Kingdom, and the report highlighted the role the campaigns of Kellie-Jay Keen were playing.
The report says Keen is "a leading voice in the anti-trans movement in the UK and has been praised by the far right. She has increasingly found support from and an overlap in views with the far right, which has also increasingly focused on trans people."
Today around 30 members of the far-right group Nationalist Socialist Movement marched down Spring Street in support of Keen, they shouted slurs at members of the LGBTIQA+ communities and their supporters, while unfurling a sign that read 'Destroy Paedo Freaks'.
Federal Labor MP Josh Burns has commented on the appearance of the neo-nazi group saying there needed to be a discussion about whether tougher laws are needed.
"The ugly alliance between anti-trans bullies and neo-Nazis on display in the city today was extremely confronting.
"Both groups seek to bully and blame minority groups in their dark ideology. Scapegoating minorities is their business model, and it has no place in Australia.
"The brazen marching with neo-Nazi salutes in front of the Victorian Parliament is unacceptable. This is a time for us to consider whether tougher laws are needed." Burns said.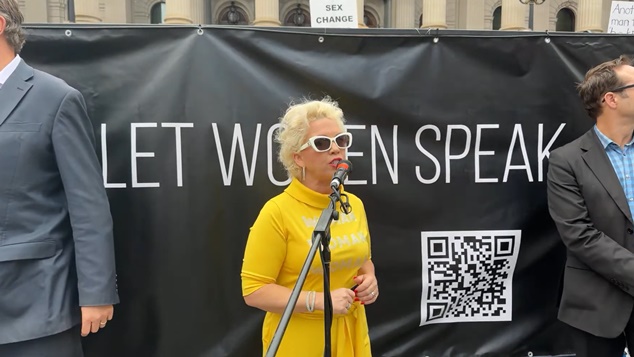 Let Women Speak event disrupted by protestors
While protesters have shouted down speakers at Keen's Let Women Speak events in other cities in Melbourne there were violent disruptions.
First two women interrupted the event with a performative action that saw them acting out the birth of a transgender child, but things became more violent when a protesters grabbed the microphone off one of the speakers before being tackled to the ground by Keen's private security.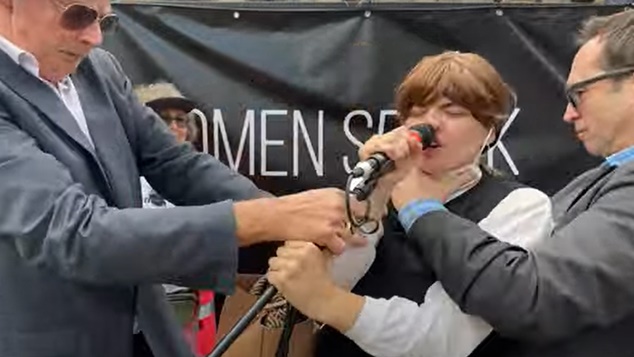 Video footage from the event showed the women being pulled to the ground while security wrestled the microphone from her.
Liberal MP Moira Deeming, who recently voiced her opposition to transgender people during her inaugural speech to the Victorian parliament, spoke at the event.
Former New South Wales Liberal candidate Katherine Deves also took to the microphone. Deves ran for the seat of Warringah in the 2022 federal election, but her campaign took a nose-dive when her long history of social media comments about transgender people came to light.
Following the event Deves threatened legal action against a social media user who suggested she was standing on the same side as the neo-nazi supporters.
"The police knew they were not with us, the police let them into our buffer zone where no one was supposed to go, and women were terrified because we thought they were going to attack us." Deves told OUTinPerth after the event.
A spokesperson for Victoria Police said the protest had involved at least six different groups.
"Some of these groups failed to engage with police in the lead-up to the protest, or altered their plans without notice, resulting in the potential for multiple clashes between the opposing groups.
"Consequently, officers were required to form many lines between the different groups to protect the safety of all involved, stop breaches of the peace and prevent any physical violence.
Police said three people had been arrested at the event. A 22-year-old Point Cook man was arrested for allegedly putting a female officer in a headlock and taking her to the ground, while a 23-year-old Thornbury woman was also arrested for allegedly slapping a police officer on the neck.
"Both are expected to be charged with numerous offences including assault police. The two police officers were not injured." the spokesperson said.
A third person, a 22-year-old from Preston, was also arrested for unlawful assault.
Police said they will review CCTV, body-worn camera, and social media footage, to determine whether any further offences occurred.
Western Australian based transgender advocacy and support group TransFolk of WA has previously commented on the tour.
"TransFolk of WA supports the broad scientific support and the lived experiences of trans and gender diverse individuals.
"Not everyone may agree with that, but the difference is that TransFolk of WA is committed to and works towards ensuring our communities are valued and supported.
"We hope that individuals who choose to spread violent rhetoric will focus on assisting their own communities instead of damaging others." a spokesperson for the organisation told OUTinPerth.
"In a time where trans and gender-diverse West Australians should be celebrating recent community wins on the abolishment of the Gender Reassignment Board and updates to the Equal Opportunity Act, events like this continue to cause real harm to our already vulnerable community.
"Trans women are women, and we will continue to advocate for our community to ensure their safety and acceptance." TransFolk of WA's spokesperson said.
OIP Staff, Update 14:52 comments from Katherine Deves added. 15:03 Statement from Victorian Police added. OUTinPerth has approached Kellie-Jay Keen and Victorian Premier Daniel Andrews for comment. 
---
Do you need some support?
If you are struggling with anxiety or depression, support and counselling are available from:
QLife: 1800 184 527 / qlife.org.au (Webchat 3pm – midnight)
QLife are a counselling and referral service for LGBTQIA+ people.
DISCHARGED: [email protected] / discharged.org.au
Discharged is a trans-led support service with peer support groups for trans and gender diverse folks.
Lifeline: 13 11 14 / lifeline.org.au
Beyondblue: 1300 22 4636 / www.beyondblue.org.au
---

You can support our work by subscribing to our Patreon
or contributing to our GoFundMe campaign.