Queer representation increased dramatically at Winter Olympics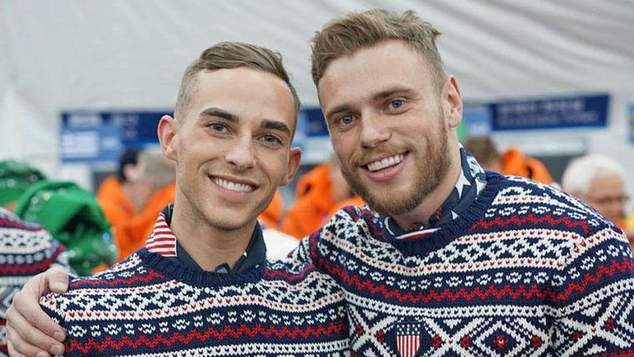 Adam Rippon and Gus Kenworthy were the most high profile LGBTI+ athletes at the Winter Olympics, but they were not alone, there was a record level of queer representation.
The Winter Olympics in PyeongChang, South Korea heralded a record 15 queer Olympian athletes from around the world. Its the largest number of athletes who have shared their gay, lesbian or bisexual orientation to compete at any winter Olympics in the history of the competition.
Mirroring the much larger summer Olympics, queer women outranked queer men at the games, but while the representation of gay, lesbian and bisexual athletes is growing, transgender and intersex people are still not significantly included in sport.
The significance of so many Lesbian, Gay and Bisexual athletes competing in the world's most revered sporting event goes to show that we come in all shapes and forms, and we can role model and impact the world with our talents and skills just as well as our heterosexual counterparts.
Here's a brief rundown of the 15 competitors under the Rainbow flag in PyeongChang.
NAME: Adam Rippon
DOB: 11/11/1989
ORIENTATION: Gay
NATIONALITY: USA
SPORT: Figure-Skating, Team & Individual
RANK: Bronze Medal for Team Figure Skating. 10th in Men's Single Skating
INFO: Probably the most well known Gay Olympian of the 2018 Winter Olympics. Adam Rippon was the first Openly gay U.S athlete to win at medal at any Winter Olympics. He is known for rejecting to meet Vice President Mike Pence before competing in his field due to Pence's notorious alleged stance on gay conversion therapy and similarly held homophobic views which led to Pence pleading with him over twitter to meet with him. Speaking of Twitter Sally Fields attempted to set up her gay son, Samuel Griesman, with Rippon over the social media site tagging him in a screenshot image of a SMS conversation the two had referring to Rippon. Rippon responded "Sam, your mom – I admire her. And I'm sure one day we're going to meet! So thanks, Mom". Rippon has also made headlines walking the Oscars red carpet in a Moschino tuxedo with leather bow tie and harness.
NAME: Gus Kenworthy
DOB: 1/10/1991
ORIENTATION: Gay
NATIONALITY: USA
SPORT: Men's Freestyle Skiing
RANK: 12th
INFO: The other most well-publicised gay athlete of the 2018 Winter Olympics. Kenworthy is known for winning a silver medal at the 2014 Sochi Winter Olympics and then coming out in October 2015. This year he broke his thumb during the games and accrued a haematoma on his hip which could account for his ranking in the end. He was the first same-sex kiss broadcast to air during the Olympics. He is also dating U.S film and theatre actor Matthew Wilkas who was a lead in the 2012 film Gayby. His friendship with Adam Rippon has become a fan-following in the time since the games opened and Kenworthy is on the record for being glad to compete this Olympics openly despite being closeted for Sochi.
NAME: Eric Radford
DOB: 27/01/1985
ORIENTATION: Gay
NATIONALITY: Canadian
SPORT: Figure-Skating, Team & Pair
RANK: Gold Medal Team, Bronze Medal Pair
INFO: Taking home the gold medal with skating partner Meagan Duhamel, Radford did exceptionally well in his events in PyeongChang echoing and exceeding his efforts at Sochi where he landed silver medals for his Team event and 7th for his Pair event. Radford came out in 2014 after his win at the Sochi Olympics which was widely condemned for the host country having anti-gay views and dangers to foreign LGBT+ athletes. Radford is also a musician when not competing in the Olympics and studied at York University in Toronto and he is dating fellow Spanish Figure-skater Luis Fenero. He began skating in 1993 at age 8 and trains 35 hours a week in the high and low seasons in Montreal to maintain his skill-level.
NAME: Belle Brockhoff
DOB: 12/01/1993
ORIENTATION: Lesbian
NATIONALITY: Australian
SPORT: Snowboard Cross
RANK: 11th
INFO: The only openly lesbian Australian-born competitor at the PyeongChang Winter Olympics. Brockhoff is an East Melbournian who came out in August 2013 and was part of the Principle 6 campaign held during the Sochi Winter Olympics in 2014 where she and 5 other openly LGB athletes competed in the games despite going public with their sexual orientation in the face of Russia's anti-gay laws and violent attacks. Brockhoff declared that she would lie low during those games to ensure her safety though. She also qualified in the 2018 Winter Olympics despite having received a knee injury only 2 months out from the season opening. She is the niece of Australian Alpine Skier Peter Brockhoff who represented the country in the 1960 and 1964 Winter Olympics.
NAME: Ireen Wust
DOB: 01/04/1986
ORIENTATION: Bisexual
NATIONALITY: Netherlands
SPORT: Speed-Skater
RANK: Gold Medal 1,500m, Silver Medal 3,000m, Silver Medal Ladies Team Pursuit, 9th 1,000m
INFO: With a total of 11 Olympic Medals (5G, 5S, 1B) being the first female winter Olympian to win 9 individual medals and being a 6 time world champion, Wust is arguably the most successful Dutch athlete of all time. She is dating Long Distance Skater Letitia De Jong and hopes her achievements as a Speed Skater are not overshadowed by the fact she has a girlfriend. With a "Go hard or die" philosophy Wust is probably the competitor to beat of the 15 LGB athletes profiled. She was also the inspiration for a children's book called Marieke Martino, the granddaughter of King Stracciatella.
NAME: Sophie Vercruyssen
DOB: 22/02/1992
ORIENTATION: Lesbian
NATIONALITY: Belgium
SPORT: Women's Bobsleigh
RANK: 12th
INFO: Originally a basketballer Vecruyssen decided that after watching the 2014 Sochi Winter Olympics on TV that Bobsleigh was something she could take up and so she switched sports to compete in the 2018 Olympics. She is one of three queer Olympians representing Belgium this year and she lives with her partner Lore Simons in her home country. They have been in a committed relationship for 5 years running despite the extensive travel and long-distance demands associated with being an elite athlete.
NAME: Sarka Pancochova
DOB: 01/11/1990
ORIENTATION: Lesbian
NATIONALITY: Czech Republic
SPORT: Women's Snowboard
RANK: Ladies Slopestyle 16th Ladies Big Air 19th
INFO: Coming out publicly in OutSports in 2017 Sarka expressed she was "stoked" to discuss her sexuality publicly but that it was "really not a big deal anymore". She previously qualified and competed in the 2014 Sochi Winter Olympics where she cracked her helmet and was rushed to hospital, luckily, she was healthy and able to compete in her other competitions. She started snowboarding at age 11 on her local mountains of Moravia with her brother.
NAME: Cheryl Maas
DOB: 28/09/1984
ORIENTATION: Lesbian
NATIONALITY: Netherlands
SPORT: Women's Snowboard
RANK: Ladies Slopestyle 23rd Ladies Big Air 20th
INFO: Married to her wife Stine Brun Kjeldaas former 1998 Nagano Winter Olympic silver medallist for Snowboarding they care for their two daughters Lara and Mila. Maas was the first woman to perform a backside 900 in competition at the 2016 X Games and in 2004 she played in the snowboard movie Dropstitch. After she qualified for the 2014 Olympics she criticised the International Olympic Committee for hosting the Olympics in Russia for their anti-gay views. After she didn't make the second run in slopestyle at Sochi she raised a rainbow mitt to the cameras in protest to Vladmir Putin's anti-gay propaganda bill.
NAME: Barbara Jezersek
DOB: 31/10/1986
ORIENTATION: Lesbian
NATIONALITY: Australian (Formerly Slovenian)
SPORT: Women's Freestyle Skiing, Skiathlon & Team Sprint Free Skiing
RANK: Ladies 10km Free 33rd Ladies Skiathlon 39th Ladies Team Sprint Free 12th
INFO: Obtaining her Australian citizenship in 2016 the Slovenian born skier originally focused on swimming and cross-country before seeing her older brother, Andrej, compete in the 2002 Salt Lake City Winter Olympics and decided she wanted to best his scores. She formerly represented Slovenia in 2010 and 2014 Winter Olympics before becoming a Ski-Instructor down under and decided to stay. Both Jezersek and Jessica Yeaton became the first Australian team to qualify for a team sprint final at a World Cup Event where they finished 10th in Dresden, Germany.
NAME: Kim Meylemans
DOB: 07/03/1996
ORIENTATION: Lesbian
NATIONALITY: Belgium
SPORT: Skeleton Racing
RANK: Womens 14th
INFO: German-born to Belgian parents Meylemans makes up 1/3 of the queer athletes representing Belgium in this year's Winter Olympics. She is the first athlete to represent Belgium in Skeleton at an Olympic Games and in 2012 she competed for Germany in 2012 Youth Olympic Games in Innsbruck, Austria. Speaking 4 languages and studying hospitality management on the side Meylemans philosophy is "work hard in silence, let success be your noise".
NAME: Simona Meiler
DOB: 13/09/1989
ORIENTATION: Lesbian
NATIONALITY: Switzerland
SPORT: Snowboard Cross
RANK: 22nd
INFO: Having represented Switzerland in the 2010 Vancouver and 2014 Sochi Winter Olympics Meiler is familiar with the Olympic games. She suffered a spinal fracture two years prior to this Winters games she still qualified. She remarked that athletes "have to be ready to give everything and perform wholeheartedly, and in my eyes that's only possible if they can accept and express their sexuality" when speaking out against Russia's anti-gay propaganda laws leading up to Sochi 2014.
NAME: Daniela Iraschko-Stolz
DOB: 21/11/1983
ORIENTATION: Lesbian
NATIONALITY: Austria
SPORT: Ski Jumping
RANK: Ladies Normal Hill Individual 6th
INFO: After winning a Silver Medal for Ladies Normal Hill Individual in the 2014 Sochi Winter Olympics she put in a fighting effort in PyeongChang claiming 6th place. This isn't the only time Iraschko-Stolz has fought hard. She was one of 15 athletes to sue the organisers at the 2010 games in Vancouver for Gender Discrimination which featured only Men's Ski Jumping. She was also the first female ski-jumper to land more than 200 metres. She is married to wife Isabel Stolz.
NAME: Jorik Hendrickx
DOB: 18/05/1992
ORIENTATION: Gay
NATIONALITY: Belgium
SPORT: Figure Skating
RANK: Men's Single Skating 14th
INFO: The final 1/3 of the 3 queer athletes representing Belgium, Hendrickx and his sister are known to compete internationally for Belgium with both sharing the same coach and Jorik being a two time Belgian national champion. In 2014 he competed and placed 16th at the Sochi Winter Olympics and he came out as gay publicly on February 1st 2018. He has placed in the Top 10 for four European Championships and studied Sport Marketing and Management whilst also looking at himself as a sort of manager for his younger sister and her career as a pro figure skater.
NAME: Brittany Bowe
DOB:b 24/02/1988
ORIENTATION: Unidentified (in a relationship with a woman)
NATIONALITY: USA
SPORT: Speed Skating
RANK: Bronze Medal Ladies Team Pursuit, Ladies 500m 5th, Ladies 1,000m 4th, Ladies 1,500m 5th
INFO: Partnered to Manon Kamminga who represented the Netherlands in speed skating and roller speed skating Bowe is a fierce basketballer and inline skater as well as roller speed skater and speed skater. Talking on her relationship Bowe remarked "It's nice being with somebody that has the same passion, same drive, same goals." As a child Bowe competed in a state-wide boys travelling soccer team in Florida and went on to study sociology in Boca Raton whilst focusing on her athletic career.
NAME: Emilia Andersson-Ramboldt
DOB: 31/08/1988
ORIENTATION: Lesbian
NATIONALITY: Sweden
SPORT: Ice-Hockey
RANK: Women's 7th
INFO: Captain of the 2017 Swedish National Team at the World Championships and named female hockey player of the year for the 2014/15 season in Sweden as well as placing 4th in both Sochi and Vancouver, Andersson-Ramboldt is a strong competitor. She married her wife Anna Ramboldt in June 2015 and studied abroad at Minnesota State University, USA. When it comes down to it Andersson-Ramboldt says she plays ice-hockey because it keeps her in shape.
Kyle Kash
---