Queer student on Q&A warns Safe Schools debate is harmful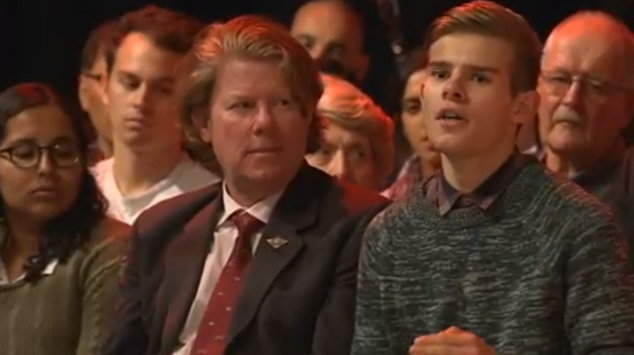 A student who identified themselves as queer has called out politicians for using innocent children as political bullets in the ongoing debate over the Safe Schools anti-bullying program on last nights episode of 'Q&A'.
Carter Smith used his time to condemn criticisms of the Safe Schools program, lauding paneling and Victorian Premier Daniel Andrews for his unwavering support for the program.
"The notion that the Safe Schools program is radical gender theory is absolutely ridiculous," Smith said.
"I just want to know that [Premier Andrews] will continue to fight for [Safe Schools] in the face of adversity and what he will do to ensure that people are educated on this issue and also that kids are kept safe."
Mr Andrews reasserted his position that he will fund the program fully in its original form on a state level.
"If the Federal Government wants to tinker with it and compromise it, we will fund it fully and deliver it properly in every government secondary school across our State, no questions asked."
Feminist author Clementine Ford joined Mr Andrews in her support of the program, calling for it to be mandatory in all schools.
"Absolutely nobody is going to be hurt by teaching kindness, by teaching not tolerance – tolerance is the wrong word – but by teaching love, by teaching an embrace of diversity and by actually teaching that people come in all sorts of different kinds of packages and there's nothing wrong with that," Ms Ford said.
"Reducing it so that it's only introduced in secondary schools makes the assumption that this awareness only transpires when you enter secondary school and it's not."
Coalition MP Josh Frydenberg said he was moved by Smith's plea, but he still supports his governments move to wind back the program.
"The Government has identified some problems in this particular program. It's got quite a controversial concept, accepting the fluid nature of gender," Mr Frydenberg said.
Mr Frydenberg praised Education Minister Simon Birmingham for his thorough review.
"His changes are changing some of the content, getting more parental engagement, getting more peer review and ensuring that the website links are actually to organisations that receive state or federal funding."
Smith was asked for his thoughts on the Safe Schools debate by host Tony Jones, and he shared his concern for the wellbeing of young LGBTI people.
"No one is born bigoted. They learn bigotry," Smith said.
"So when this kind of debate happens and this kind of pushback against natural human rights occurs, I think it is absolutely ridiculous and it is detrimental to kids' health, so why does this have to continue? Why does the Government have to push back?"
OIP Staff