New podcast 'Queer to Air' gives voice to Perth's LGBTIQ+ youth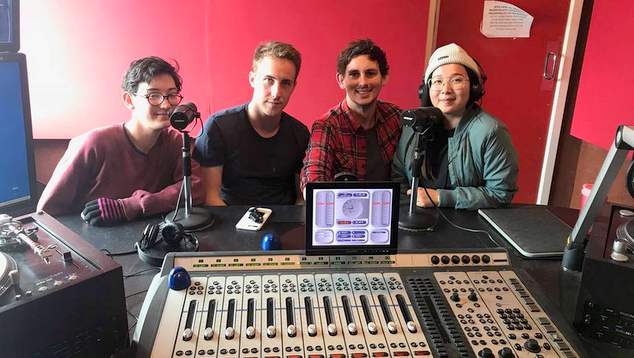 The Freedom Centre has been creating a podcast series called Queer to Air which will be released over Pridefest 2018. 20+ young people have come together to share their experiences of being LGBTIQ+.
Discussion topics include coming out, body image, relationships, seeking help and transitioning. They also interviewed some key services in our community so young people know what services are out there if they need to reach out for help.
We had a chat with the Belinda (24), Jacob (24) Jay (25) Tephy (24), Elanor (20), Raphael (23) and Claire (24) about their experience of making the new series.  
How would you describe Queer to Air?
Belinda: Real young queer people talking about real stuff – the type of things people should talk about, but don't.
Jacob: A source of queer information, experiences and support.
Raphael: Extra gay and wholesome.
Jay: The most accessible form of peer support available to young LGBTIQ+ people across Australia. A revolutionary resource unlike no other that is sure to have impact for generations to come.
Claire: A fantastic podcast that's by and for LGBTIQ+ young people.
Tephy: It's a mass of queerness and rainbows, and it's real LGBTIQ+ young people talking about real issues.
Elanor: A podcast about mental health in relation to queer youth, recorded by and for young people in the queer community.
What topics are discussed on the podcast and what has surprised you about the conversations?
Jacob: A broad range of topics that affect the queer community. For me the trans experience is something unknown, so I really enjoyed learning more about trans issues.
Jay: Stereotypes, coming out, bi visibility, self-care, the ways in which we are very much the same and so uniquely diverse – something that young LGBTIQ+ people rarely have access to.
Claire: Relationships, coming out, body image.
Elanor: A wide range of topics including coming out, body image, accessing services and much more.
What has it been like heading into the studio at RTRFM to record each episode?
Belinda: A little nerve wracking every time.
Jacob: RTRFM was a really welcoming and comfortable learning experience.
Raphael: Very professional and smooth
Jay: Exciting to be given the opportunity to learn how to communicate in media and insight into radio production.
Claire: Really great! The studios are awesome and it felt really professional to record in them.
Elanor: Exciting, professional feeling and refreshing; it felt like we were having fun doing good and positive work.
How has it felt taking part in the conversations for the podcast?
Jacob: It has been eye opening and really informative. It has inspired me to want to engage and support the queer community more.
Raphael: Feeling more like I'm part of this community. Jay: Empowering that my story is shared, heard and valued in such a way that the mental health of my peers may be improved.
Claire: It's been really fun – something I looked forward to and enjoyed every time I did it.
Tephy: I was a bit nervous, but once I got talking it was really nice – it's just like you're talking with friends.
Who is the podcast aimed at? Why should people download the series?
Belinda: It's by young LGBTIQ+ people for other LGBTIQ+ people. It's a great way to feel connected by listening to people's perspectives and experiences.
Jacob: It's aimed at all members of the queer community and anyone wanting to join the community or learn more about it.
Raphael: Because the topics covered in the podcast aren't commonly found online, so it's a really valuable resource.
Jay: To gain deeper, relevant understanding of what it's like to be young and LGBTIQ+ in Australia today.
Tephy: So all people can be educated on topics LGBTIQ+ people are concerned with.
Elanor: To learn more about mental health in queer youth, but also to enjoy listening to discussions of great value, especially for young people.
Find Queer to Air on Soundclound and iTunes.
---