Rainbow Labor denounce Labor MLC's anti-Safe Schools article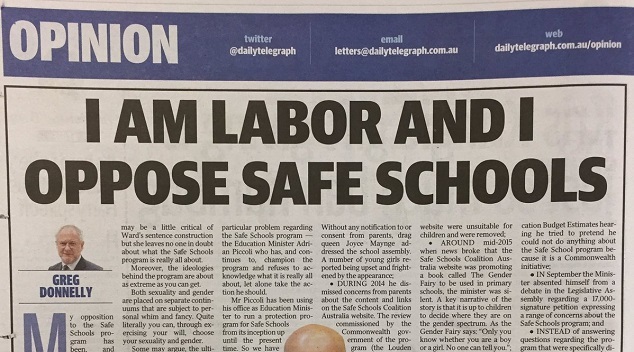 An opinion piece penned by NSW Labor MLC Greg Donnelly printed in today's Daily Telegraph has been condemned by members of Rainbow Labor for it's anti-Safe Schools position.
Mr Donnelly, who has spoken against LGBT equality many times during his tenure in NSW parliament, wrote that his opposition to the Safe Schools program is "absolute".
"It is not because it's an anti-bullying program. It's because it was never an anti-bullying program in the first place," Mr Donnelly wrote.
Rainbow Labor members Alex West and Andre Charadia have released a statement denouncing Donnelly's article.
"Greg Donnelly is out of touch and out of step. He is a lonely voice on the wrong side of history."
The Rainbow Labor representatives acknowledged the article comes on the same day it was revealed that a 13-year-old boy had committed suicide in Queensland after years of relentless homophobic bullying at school.
"It is disappointing that Greg Donnelly has chosen to be so out of step with his colleagues at NSW Labor on the Safe Schools program. For, it was NSW ALP who implemented Proud Schools in 2001, an anti-bullying pilot to target homophobia and transphobia in school."
"It is disappointing that Donnelly is choosing to ignore what is arguably the most fundamental of Labor principles: solidarity with those who are marginalised, dispossessed, or disenfranchised. But what is even more disappointing is he cannot see through his vexed ideology."
LGBTIQ+ publication SameSame have also acknowledged that Daily Telegraph publishers News Corp are major sponsors of the Midsumma festival – Victoria's premier queer arts and cultural event.
Midsumma have responded to Twitter followers, ensuring that they are in talks with News Corp about community concerns.
OIP Staff
---
Sources