Review | Baby Got Back redefines the size queen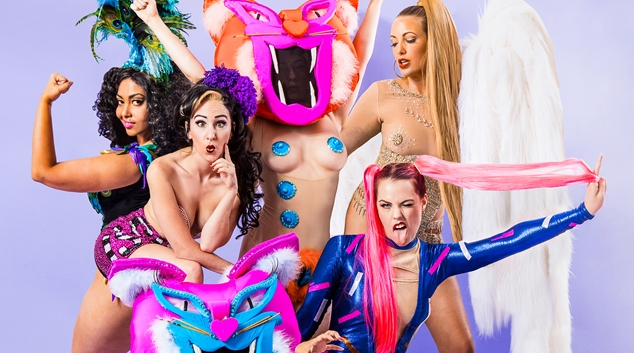 Baby Got Back: Size Queens | The Edith | til 3rd Feb | ★ ★ ★ ½ 
Waiting in line outside the gorgeous Edith spiegeltent on a glorious summer night, we were approached by someone in a full pink leopard latex suit who was asking for small donations to purchase "Badonkadollars" to show our love to the performers in the show. Badonkadollars are worth $244.80 (the current gender pay gap) and all monies raised were being donated to Women in the Arts.
Armed with handfuls of 'cash' we moved inside to the welcome of 4 prowling women in fluoro cat costumes – complete with six nipple pasties a piece. These pussies definitely grabbed back. Proudly wearing heart collar tags of 'slut', 'bitch', 'whore' and 'dyke' these kitties purred their way across the stage combining sensuality with the absurdity of character play and bowls full of swag. Gyrating across the stage demanding that we make it rain with our pay-gap cash. There was a feline pastie costume malfunction moment that was dealt with by the performer displaying an attitude of embracing the mayhem that you would come to expect from the rest of the show. In the frenzy that followed the 'slut' pet tag flew into the air and landed on my lap.
This was a show definitely for me.
After a heartfelt and genuine Acknowledgement of Country, the second performance moved more into traditional striptease territory, or did it? As it morphed into spoken word lip sync about the rules of being a strip show punter and how these could be transferred into our general lives as Baby Got Back challenged us to spend the next 55 mins defining – what a Size Queen is exactly?
Stand out performances included a sexy sheep (yes, you read that right) and a self-stimulated squirting routine complete with giant latex clitoris (yes, you read that right) and a captivating and tone changing Warrior Armour routine where more clothes were actually put on (yes, you read that right). These performances had audiences expressing moments of rapture, enchantment, riotous laughter and out and out screaming.
There were a few things that seemed to miss the mark for the overwhelmingly queer presenting audience. A spiel about "what all women have in their bag" and a musical piece was played on a 'dicktaphone' with a wink and "am I right ladies?", could have been made more inclusive by the addition of additional props and a nuance in language that recognised that not all women need condoms/like penises/have handbags/can relate to heteronormative relationship structure. Looking out at who the audience was, I could see that there were a fair few queer siblings that seemed a little disappointed by this narrative in the show. The messages throughout about the experiences of moving throughout the world as a woman could be understood by most folks in the room, but I was left feeling a little like this show was about educating men more than empowering women.
The oft-dreaded (well by me anyway) audience participation even served to bring forth an on-brand message. A moment where our tour de force of a host (wearing only a space helmet) asked to sit on the lap of an audience member who was not having it one little bit and expressed an enthusiastic 'no thank you' was met with a collective push-back from the audience until skilfully shifting this moment as an opportunity to recognise that this was literally a demonstration of consent.
Baby Got Back work their asses off to do something different with this show, to provoke conversation and challenge our conceptions of stripping and womanhood and bodies. The bits they got right were a riot. Just a wee bit of tweaking and acknowledgement of the diversity and intersectionality of the experiences of being a woman could make their messages as powerful as their performances. Maybe they can throw a strap-on into the Dicktaphone routine next time?
A show of flesh, provocation, profanity, comedy, chaos and kitties Baby Got Back ultimately defines a Size Queen as a person who takes up space, sets their own rules, demands what they are worth and does what they damn well please. And that's a message I can sure get behind.
Baby Got Back: Size Queens will be at the Edith Spiegeltent until Sunday 3rd February. Tickets and more information available from fringeworld.com.au
Bella Broadway