Review | Community shines in Black Swan STC's Our Town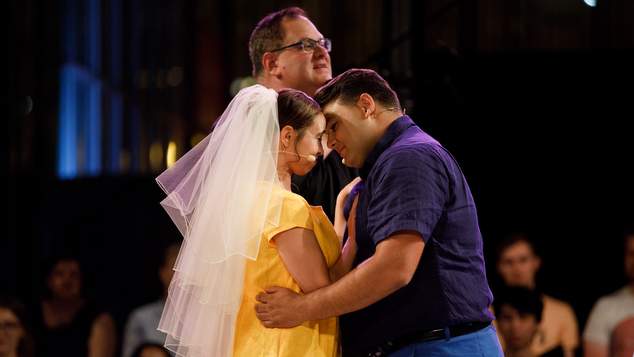 Our Town | State Theatre Centre Courtyard | til 23rd Feb | ★ ★ ★ ★ 
Intrigue urged me to review the latest Black Swan Production in the use of community members to play characters alongside three professional actors with indigenous heritage: Abbie-Lee Lewis (Emily), Ian Michael (Stage Manager/George), and Shari Sebbens (Mrs Gibbs). The intention was to give us a glimpse into the interaction of two main families, the Gibbs and the Webbs whose lives interconnect even more when Emily Webb and George Gibbs get married.
Set in Grover's Corners, a fictional rural town based on Peterborough in New Hampshire where the playwright, Thornton Wilder, spent his summers, the play had a distinct Australian flavour due to American accents not being used despite the text referencing American history. This worked really well and you could imagine a similar community in the rural heart of Australia.
On entering the performing space, a futuristic female voice over the speaker repeatedly asked us to don the large headphones as soon as we sat down as this is how we would listen to the play. A brilliant idea as it cut out any external noise from traffic and Fringe World only metres away outside.
Performing under the stars in the semi-outdoor environment of The State Theatre's courtyard was the perfect setting for this play and we were seated on raked seats on three sides of the sparse wooden rectangular stage, a small community "church" choir seated on the fourth side. Essentially, this was a 360 degree production where we would view the townsfolk go about their daily lives as if we were peering into four sides of a dolls house – except the only set was a couple of tables and a few chairs based in the two family houses. As the Stage Manager (Ian Michael) announced, "This is the scenery – for those who feel they need scenery!" (Chuckle!)
Brechtian in style and approach, the play opens with a descriptive introduction of the town and characters, houses, gardens and main features by the very versatile and charismatic Stage Manager, a character who reminded me of Jaques from Shakespeare's As You Like It – his famous monologue being "All the world's a stage, and all the men and women merely players; they have their exits and their entrances, and one man in his time plays many parts…"
Just like Jaques, the Stage Manager provides commentary and instruction to us as an audience. Ian Michael was well cast in the role with his amical joviality, strong and empathetic demeanour. When in his sky blue linen suit, he was the commentator. When he threw off his jacket to an unsuspecting audience member, he was teenage George, son of Dr Gibbs – portrayed by an extremely convincing community member, Dr Jonathan Carapetis who has certainly missed his vocation as a true actor. George's mother, Mrs Gibbs played by Shari Sebbens, was the matriarch of the play, admirably being the lynch pin holding all actors and community members together. Her stage presence was commendable.
Other community members worth mentioning was Dimity Franks, perfectly cast as Emily's mother, Mrs Webb; and Mr Webb, played by David Zampatti who did a fine job too. Both couples were excellent in their portrayal of parents of teenage children, combined with the domesticity of daily life with no props – mime only! Hats off to all these pro-am actors who gave a seamless and convincing performance.
The community choir, (Curtin University's award-winning acapella Rhythmos Choir), was a beautiful addition to the cast, their harmonies and strong voices soaring throughout the courtyard into the stratosphere above as if they were in Grover's Corners church itself – although I believe the music here was far superior. Cameo performances with the milkman on his bike (an imaginary horse called Bessie), priest, post boy, professor and drunk enhanced the life of Our Town and our fascination with watching the world go by as they come in and out of our lives. These characters, and several others, are shared throughout the season by three to four people from Perth playing each role – including our very own editor, Graeme Watson, cast as Editor Webb! Luckily – I didn't have to review him tonight…
"Every child born into the world is nature's attempt to perfect a human being" perfectly surmised life's struggle in trying to get things right. Even George acknowledges he needs to swiftly improve himself when Emily offers gentle criticism of his nonchalant change of character verging on arrogance as they deal with their personal feelings and, I assume, puberty.
Overall, the play had all the elements of an entertaining yet thought-provoking evening with humour interlaced with romance, interlaced with parental concern and finally the ultimate tragedy of Emily's death as a result of child birth. Emily's character looks back at her short life and wants to go back and capture those moments she took for granted – like a butterfly flitting from one flower to the next. Abbie-Lee Lewis embodied this ephemeral character and provided the one true emotive, heart-felt poignancy the play needed. As her fictional mother says "There's something down right cruel about how we send our girls off into marriage!" The vulnerability of a 17-year-old girl being married off, albeit willingly, underpins the tragedy to come.
Lewis was quite captivating to watch and I wanted her transient yet intriguing character to feature more in the play. It was quite a sobering scene when she wanders bewilderedly around the graveyard full of characters already passed away including her own mother-in-law, and the irritating old spinster, Mrs Soames (brilliantly played by Polly Low), seated upright on chairs, symbolic of their gravestones.
"Everyone knows in their bones that something is eternal… There's something way down deep that there is something eternal". Theatre usually teaches us something or makes us feel something greater than ourselves and in the words of Thornton Wilder "I regard the theatre as the greatest of all art forms, the most immediate way in which a human being can share with another the sense of what it is to be a human being." Black Swan achieved that tonight!
Our Town will be in the State Theatre Centre courtyard until Saturday 23rd February. Tickets and more information available from BSSTC.com.au
Fiona Cooper Smyth
Disclaimer:- OUTinPerth owner/editor Graeme Watson is part of this production.