Review | Courtney Act Drops Her House on the Wicked West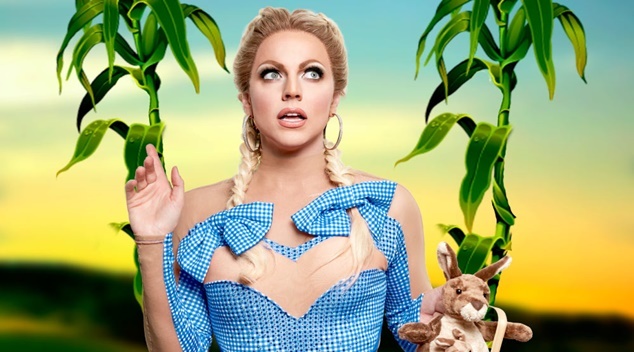 Courtney Act: The Girl From OZ | Salon Perdu Spiegeltent | Until Feb 19 | ★ ★ ★ ★ ★ 
There's no doubt that Courtney Act is truly a sparkling star in the Australian LGBTQI+ community. She's the classic story of a 'home grown 'girl' who made it big in American' and I have been quite the fan for a long time. I think I'm not alone when I say I clutched my non existent pearls when it was advertised that Courtney Act was coming to Perth Fringe World and I was not left disappointed with her remarkable efforts.
I was lucky enough to find myself sitting front row waiting to see the 'World's Most Beautiful Man' in the flesh and that's exactly what I saw. The lights dimmed and the audience roared as the show began with Courtney gliding her way on stage rocking red sparkling roller skates, in a blue and white dragged up Dorothy styled dress. Drenched in rhinestones and sequins, the sweet sounds of Australian icon Olivia Newton John's Xanadu began, immediately setting the tone of what's to come.

Accompanied by her suave pianist, Courtney swapped her skates for a pair of ruby red slippers that belonged to some unfortunate black and white striped feet 'crushed' under the piano. Amidst these camp elements of the show, we saw some tongue'n'cheek banter with the audience, in 'true blue' style breaking the fourth wall, ultimately creating a relatable and humorous environment.
Courtney proceeded with the theme of Australian classics with renditions of Men At Work's Land Down Under however, twisting the lyrics to focus on the City of Perth, demonstrating her fabulous song writing skills. From this point it became clear what the shows intention was, a celebration of our sometimes misunderstood but nevertheless, wonderful Australian culture.
An abundance of Aussie classics filled the set list, ranging from songs penned by Peter Allen, to 90's pop singer Natalie Imbruglia. Hey, she even threw in a bit of ACDC in the mix, acting as a nod to her time on Australian Idol (and yes, there was a duck walk). However, a standout was her tribute to singer songwriter Sia; with Courtney's acrobatic vocals hitting impressively high notes, creating an eruption of applause.
Among the tunes were some incredibly quick costume changes while the audience were distracted by clips of her attendance at a pro Trump rally in America. She then explained to the audience that the show was originally written for Americans, using stereotypical cliches of Australia to pander to misguided American audiences. However, Courtney was able to flip the idea on its head, by making the show more of a comment on Americans and poking fun at how they see Australia, which I found clever and refreshing.
Courtney connected to her audience like a true entertainer and I just could not help myself but to say hi once the show had finished. So upon leaving, tickled with a little patriotism, I waited to speak to Courtney and was greeted with a warm smile (she really is striking up close).
Glowing with joy, you can see that she is dedicated to both her music and her drag, even when asked how she would be celebrating her birthday this week, she explained she wouldn't be doing anything too outrageous as she would be performing her final show the next day – what a legend!
If you don't believe me when I say Courtney is truly The World's Most Beautiful Man, then I suggest you better check out this show before it's too late.
Courtney Act – The Girl from OZ is running until Sunday the 19th of February at Salon Perdu Spiegeltent, located in the Pleasure Gardens. Tickets and more information available from fringeworld.com.au
Perri Oxide (Phillip Toia-Johnston)