Review | Dada Masilo presents a fiercely empowered Giselle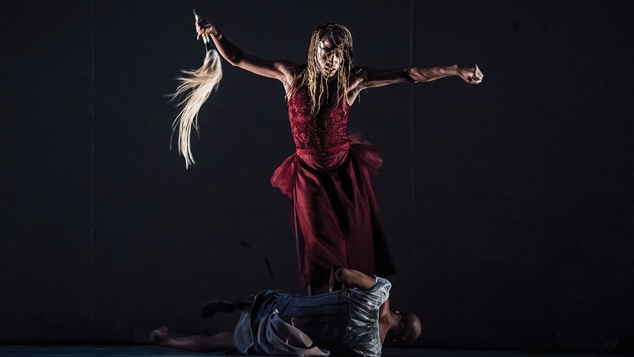 Giselle | His Majesty's Theatre | til 2nd Mar | ★ ★ ★ ★ ½ 
The classical romantic ballet has been given a radical make-over by South African dancer and choreographer Dada Masilo. Set in a South African village, the barefoot dancers perform an intensely energetic combination of classical, contemporary and traditional Tswana movements.
The dancers also chatter amongst themselves in several languages. Rather than having to rely on mine, Giselle yells out to her mother's chosen suitor to stop his advances, "Leave me alone!" This is an assertive Giselle for modern times, but some stories just manage to repeat themselves throughout history.
Giselle's story is that she is a peasant girl who is seduced by a wealthy man who is pretending to be another villager. She dies of a broken heart when she finds out that not only is he wealthy but he is already married. She becomes one a group of spirits who lure deceitful men to dance to their deaths.
In the traditional ballet, the audience knows that Giselle has crossed over into madness when she releases her hair from its neat bun. Masilo wanted more than messy hair to signify the unraveling of the betrayed woman and, dancing the lead role, she is bravely bald.
Masilo says in the program notes "I wanted to go much deeper and most importantly, to create Wilis that are really vicious". The collection of ethereal female spirits in floating white costumes have been replaced by strong men and women in red wanting vengeance for those who have been maliciously seduced. They are led by a traditional South African healer, danced by the beautifully androgynous Llewelyn Mnguni.
The story is timeless and the cultural and gender-bending overhaul given to the delicate rendition from the romantic era of ballet is exceptionally effective. The dance movements themselves ground the story and the main theme anger at deceit and betrayal trump any thoughts of forgiveness. This is a fiercely empowered Giselle for a modern age.
Giselle is on at His Majesty's Theatre for only 2 more performances – Friday 1 March and Saturday 2 March. Tickets are available at perthfestival.com.au or over the counter at the Octagon or the State Theatre Centre.
Lezly Herbert