Review | 'Merkel' documentary explores a leader's rise to power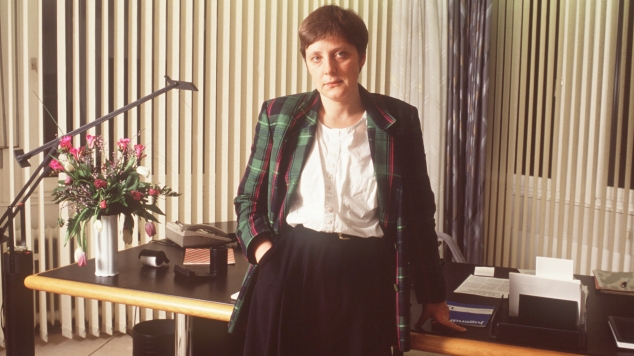 Merkel | Dir: Eva Weber | ★ ★ ★ ★
Whenever a photograph was taken of world leaders, it seemed that the Chancellor of Germany from November 2005 until December 2021, Angela Merkel, was surrounded by men in black suits. Born in West Germany, director Eva Weber goes back to Merkel's early days in East Germany to investigate what makes one of Germany's longest serving leaders tick.
Growing up in East Berlin at the time she did gave Merkel many lessons about being stoic and keeping her thoughts to herself and also finding ways around regulations that stopped her from enjoying herself – such as the 60/40 rule of Eastern to Western music. A lasting legacy was her appreciation of the democratic ideals that were missing from her life on the east side of the Berlin Wall.
Merkel's first political memory is of the Berlin Wall that stood between 1961 and 1989. She earned a PhD in Physics but it was not until the Berlin Wall came down that she thought of entering politics in her mid-thirties. It was fortunate that the new German Chancellor needed to incorporate women and East Germans into his government.
Merkel believed in tearing down walls of ignorance and narrow-mindedness. This is juxtaposed with a jarring speech by the previous American President Donald Trump about the need to build walls between the United States and Mexico. No … Merkel is not a fan of Trump and his intrusion in the film is almost offensive, but it does show how not to do things when ruling a country.
This documentary celebrates many of Merkel's achievements in office but also that she had different ways of doing things and didn't rely on the Old Boys' Network, or the tactics of grandstanding, retaliating, competing and stirring up rumours. The secret to her success was how she dealt with the Alpha Males.
This documentary, which reveals a very personal side to the world leader who achieved so much, is part of the German Film Festival that will take place from Thursday 4 May until Wednesday 24 Mat at Luna/Palace Cinemas and Palace Raine Square. See germanfilmfestival.com.au for more information.
Lezly Herbert
---

You can support our work by subscribing to our Patreon
or contributing to our GoFundMe campaign.