Review: 'Those Who Fall…'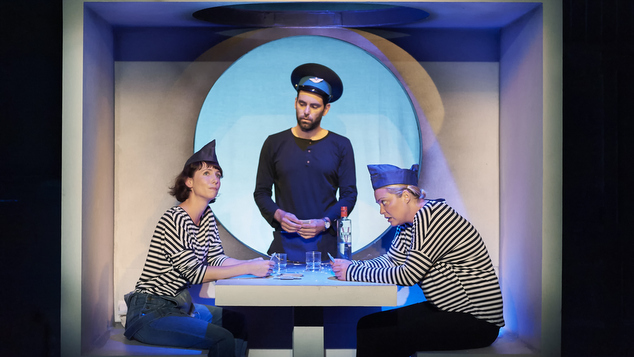 'Those Who Fall in Love Like Anchors Dropped Upon the Ocean Floor', is a new play from prolific Australian writer Finegan Kruckmeyer.
Kruckmeyer has had over 70 plays commissioned and performed over 5 different continents and this is his latest work.
Well respected actors Jo Morris, Renee Newman-Storen and Ben Mortley cleverly bring this series of short vignettes to life, carefully balancing an equal mix of tragic emotional revelations and laugh out loud funny moments.
We continually switch between stories, like an impatient viewer quick firing with a remote control.

We meet a French watch maker and a beautiful girl off to post her mail, a couple shooting rabbits in a cold wilderness, same sex co-workers attracted to each other, a couple on an comically awkward date and crew mates on a Russian submarine.
All three actors successfully morph from one character into the next as a India Mehta's clever set rotates and spins around in the performance space. The well designed set easily adapts to be a submarine, a restaurant, front doors and many other things. Creating an effective set for such a small space is admirable work.
Newman-Storen, Morris and Mortley are all well established actors who nowadays more likely to be seen in a larger production that a Blue Room show, so seeing them perform in the Blue Room's intimate space is a rewarding experience. Under the direction of Adam Mitchell, another practitioner with a bulky resume, the quality of the show is top notch.
Kruckemeyer's message is not a complex one, when we fall in love – we fall hard. There's not a lot of depth in the concept, don't go looking for the meaning of life, I don't think you'll find it here. The play does however focus on one of the most interesting facets of humanity, the process of falling love, hard and fast.
'Those Who Fall in Love Like Anchors Dropped Upon the Ocean Floor' is playing at The Blue Room until November 29th as part of the 2014 Pridefest.