Review | Felicity Groom: Galactagogue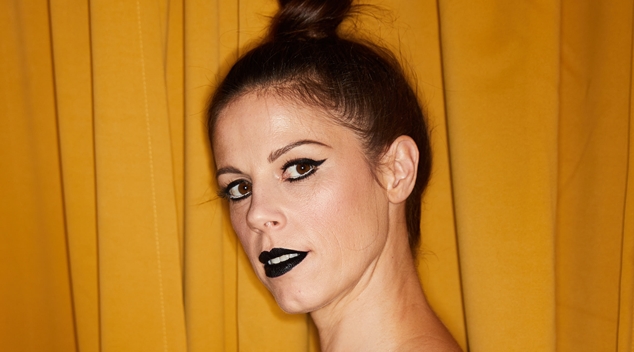 Felicity Groom: Galactagogue | Main Hall at Girls School | Until 19 Jan | ★ ★ ★ ½ 
Felicity Groom is a local musician who has been writing songs since she was 11 years old. In the Galactagogue performance, she plays an electronic keyboard and is accompanied by a drummer and bass player, but that is rather an ordinary way of describing the electronic indie pop that filled the main hall at the Perth Girls School last night.
Even Felicity, who works in a CD shop and listens to other people's music all day, actually has a bit of trouble describing her style. She settles for 'dark melodic folk pop' but this description doesn't convey the meld of her haunting voice and the accompanying synthesized melodies.
The Fringe Festival performance is based on the predominantly self-recorded and produced third album Magnetic Resonance Centre which combines her fascination with Mother Nature, motherhood and motherboards. The sometimes quite dark lyrics soar on her angelic voice as she reflects on all the things that make us human and contemplates the afterlife.
I was disappointed that she didn't talk more about the motivations for her songs but the backdrop to the performance was a kaleidoscope of images produced by local filmmaker Poppy van Oorde-Grainger as well as a host of other visual artists. The hypnotic kaleidoscope of images heightens the trance-like experience of the music.
Felicity Groom: Galactagogue is a 90 minute performance that commences at 8.45 pm at the Girls School and the Red Cat from the Perth Bus Station can take you there. There are only 2 more performances – Saturday 18 January and Sunday 19 January.
The Girls School is a new Fringe World hub. After being a school for 30 years, a police station for 40 years and recently utilized as the venue for a winter cinema, the historic art deco building hosts several Fringe Festival performances and has a burger van, a fried ice-cream van, a couple of bars and several natty places to sit with friends or make new friends
See Felicity Groom: Galactagogue at Fringe World until 19th January.
Lezly Herbert has jumped from dance (ran a ballet school) to drama (was Camille in Lady of the Camellias at uni) to film (tutoring at Murdoch Uni) to teaching to philosophising (has a Masters in Philosophy from UWA). She has been reviewing films, books, dance and theatre since the dark ages (1996).
---