Review | 'Golden Hour' is stacked with award-winning performers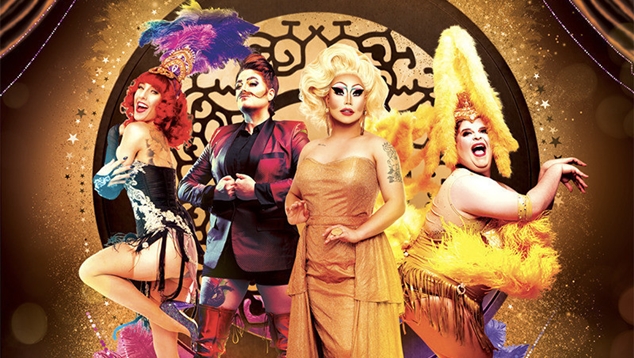 Golden Hour | The Pleasure Garden | til Feb 12 | ★ ★ ★ ★ ½ 
A show proclaiming to consist of only award-winning performers sets itself up to be a sensational show, and Golden Hour is exactly that. An hour of some of the most hilarious, talented performances you'll ever see, from local and visiting artists – all award winners in some way or another.
Setting the scene with a generic awards type show, with snippets and sound bytes from well known shows, the Collective introduce the show, making it very clear that we're watching people who are celebrated in their field. Trigger Happy, Baron Von Envy and Bebe Gunn dazzled in shimmery costumes. Though the audience was small (it was a Tuesday night, after all!) they immediately connected and amped the camp, connecting with the audience and making them laugh.
Bebe Gunn was our awards hostess of the evening, and she came straight out with her direct and hilarious approach. "A big top in the Big Top" was how she introduced herself, and though a handful were familiar with Bebe's work, it didn't take long for the audience to know they were hearing from a seasoned performer – but also that no one was safe from her quick wit and sharp tongue. Bebe was fascinating, and some of the best parts of the show were seeing her onstage and on the mic doing what she does best. As Bebe used some insult-comic humour with the crowd, half of them were shrinking down and hiding, the rest of us wishing that she's target us next!
Golden Hour has a rotating cast of performers, and adding to the Collective on this night was Kelly Ann Doll, Alexas Armstrong, and comedian He Huang. Each award-winning performer was talented in their own way, and though some of it fell short with the mid-week crowd, there was ample celebration for them all. It was laudable how some performers changed their routines onstage to engage a smaller crowd, given we could hear them speak and breathe in the space, and these interludes of speech and expression helped fill the space in the tent that was hard to ignore. To see performers embrace the space, and a smaller crowd, and still give it everything they've got? Remarkable.
Though the night started with the Award Show theme, it was only loosely tied in throughout the show. I would have loved to hear what awards the performers had won (no matter how stupid, as the Coles Scanning Olympics got a mention); however, it didn't detract from the evening not hearing it. It would simply be a welcome addition given the theme and casting choices based thereon.
Unfortunately, some weather issues plagued the show, and at one stage Bebe Gunn so delicately pointed out that all of these highly trained, skilled, award-winning performers were "standing backstage holding a curtain closed". Bebe's clever witticisms were always a hit with the crowd, and we wound up enjoying her impromptu words as much as the performers as she tied the show together and kept us laughing when things didn't go to plan. Trigger Happy performed a side-splitting number that was a perfect comedy of errors, having us laughing at the sheer absurdity of it all – and then gasping at his jaw dropping leg-lift-split! As the opening routine, the smiles were contagious, and left some people wondering what on earth they had bought tickets to… It wasn't until after the show that we knew he'd been injured, a consummate professional right to the end. Baron Von Envy wove a tale of princes, princesses, and kink – surely one you absolutely must see.
Finally, I'd be remiss not to mention the striptease trapeze of Elke, a simply stunning performance suspended from an aerial hoop – at times, only her toes preventing the fall while she shimmied out of her outfit; the crowd was aghast and appreciating her teasing talents.
Shows sometimes don't go to plan, and how the performers deal with that says a great deal about them. Bebe, Trigger, Baron and the crew are simply outstanding; open, personable, and you can't help but admire what they do and how it's done. They all have outstanding reputations in their fields, and seeing them do their thing is a treat that Perth is deprived of far too often. All of the performers are all clearly award winners for a reason; they're talented, they're quick thinkers, and their number one goal all night was to engage with the audience. They did that in spades, and each installment of Golden Hour changes – you never know what you're going to get, but be prepared to laugh, cry, gasp and applaud until your hands and cheeks hurt!
Golden Hour is a show to see if you're in the mood for laughs, burlesque, comedy, or simply want a show where anything can happen. Or, in the loving words of Bebe Gunn, "If you want to see a big fat man lose a tassel and eat ostrich feathers, or Prince Charming fuck a shoe", you've found the show for you.
Golden Hour is running at Fringe World Festival until Sunday 12 February.
Kiera (they/them) is a passionate arts creator and consumer, especially in the fields of cabaret and burlesque. Combining 20+ years of arts experience with numerous research and education-based qualifications, they enjoy sharing their knowledge and experiences.
---

You can support our work by subscribing to our Patreon
or contributing to our GoFundMe campaign.