Review | Does Love, Simon successfully bring gay romance to the masses?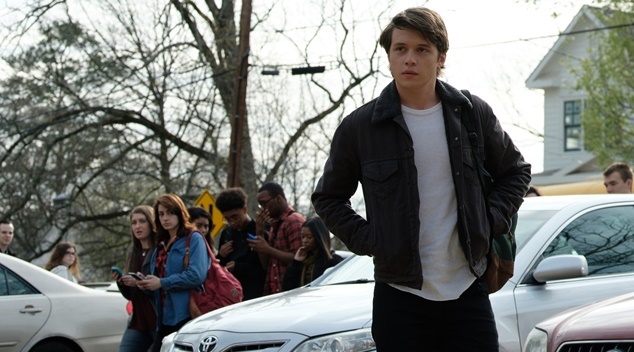 Love Simon | M | Dir: Greg Berlanti | ★ ★ ★ ★ 
Love, Simon is based on Becky Albertalli's YA novel Simon vs. the Homo Sapiens Agenda. Directed by Greg Berlanti who was a writer/producer of Dawson's Creek and Brothers & Sisters, the film is being touted as the first major studio-backed romantic comedy with a gay teen protagonist.
Of course art house and foreign films have been portraying the trials and tribulations of gay and lesbian teenagers for ages, but they are accessed by a limited audience. So this family-friendly coming out film is going to be on trial at the mega-multiplexes.
Set in an affluent area of Atlanta where seventeen year-olds get cars for their birthdays and buy take-away coffees on their way to high school, Simon Spier (Nick Robinson from Jurassic World and Everything, Everything) confesses to having a 'huge-ass secret' at the beginning of the film. When an anonymous student by the name of 'Blue' at his high school comes out on-line, Simon creates an alias email address to connect and the two share their fears and feelings.
Simon tries to figure out the identity of the anonymous student and even Googles 'how to dress like a gay guy'. It is an interesting exercise as many students are candidates in some way. As the burden of not being able to say anything to his parents increases, Simon imagines what it would be like for his friends to confess to their parents that they are 'straight'.
All the adults in the film are totally clueless and over-share their thoughts on sex. Simon's therapist mother (Jennifer Garner) misses the obvious clues that her son is gay and his father (Josh Duhamel) is full of blocky homophobic humour. The over-enthusiastic vice principal (Veep's Tony Hale) is scary and ineffectual, though he does manage to confiscate a lot of mobile phones.
There's an out-and-proud classmate Ethan (Clark Moore) who attracts a lot of abuse from fellow students and adds another dimension to dealing with schoolyard homophobia when Simon is outed by a rather unsavoury sleazebag by the name of Martin (Logan Miller).
According to the by-line of this film, 'everyone deserves a great love story'. The audience at the preview screening of Love Simon applauded the funny and charming film, so it was obviously a hit with the masses. Unfortunately the M-rated film is very restrained and syrupy. Are mainstream audiences so sensitive that a coy kiss is the only way the gay protagonist can express his sexuality?
Love, Simon hits Australian cinemas on March 29th.
Lezly Herbert