Review | 'Mary Poppins' at Crown Theatre is delightfully camp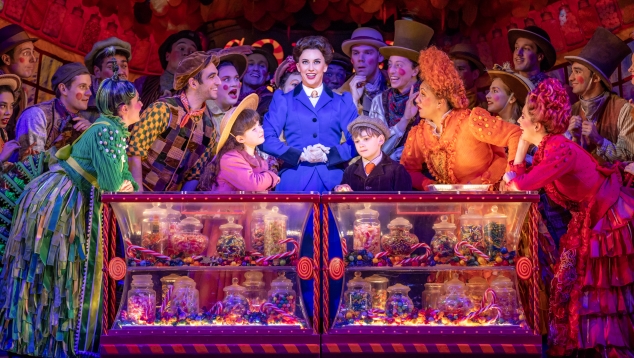 Mary Poppins | Crown Theatre | til 22 Oct | ★ ★ ★ ★ ★
Everybody knows Mary Poppins. Whether your first point of reference is Julie Andrews' iconic role in Disney's classic 1964 film, the original books of PL Travers, The Simpsons one-time nanny Shary Bobbins, or BenDeLaCreme-as-Andrews-as-Poppins' rendition of Call Me Mother on RuPaul's Drag Race All Stars 3, the character and her influence are undeniable.
Mary has flown into town once again, this time as part of Disney and Cameron Mackintosh's new musical production at Crown Theatre. Ahead of the performance, I had wondered whether we had been over-exposed to Miss Poppins and the instantly-recognisable songs of the decades-old film, but this delightfully camp production proved the story is a classic for a reason.

Audiences are seated before a striking set, a sparkling night sky creating silhouettes of London's rooftops and chimneys by starlight. Bert (Jack Chambers), who serves as much as narrator as character, welcomes us with a Chim Chim Cher-ee before the set transforms to the sounds of Cherry Tree Lane.
Here, we meet the Banks family. The stern, absent father George (Tom Wren), loving wife, mother and aspiring socialite Winifred (Lucy Maunder), and their children Michael (Reuben Koronczyk) and Jane (Makayla Healy). As you're probably familiar, the antics of the precocious children have scared away another nanny, leaving an opening for The Perfect Nanny.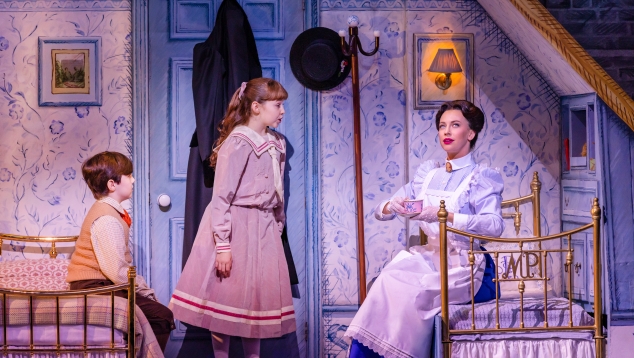 And so Mary appears. Strangely, not with a bang but with a whimper. She just appears in the Banks' living room, ready to submit her application, conduct the interview and set her salary expectations without taking a breath. I can't deny this makes sense in the context of the story and adds to the mystery of her character, but the absence of a grand entrance was felt.
This proved to be a fast-forgotten gripe, as the production sweeps you along an upbeat, exciting and magical musical journey. The set is remarkably adaptable and immense, drawing you in as it transforms from Cherry Tree Lane and its peaceful park, to different rooms of the Banks' stately home, to the grand, palatial bank where George spends his days.
Hidden surprises emerge from unexpected places, with practical and special effects adding a spoonful of whimsy to the pithy dialogue and infectiously gleeful tunes. There are some remarkable moments that shouldn't be spoiled, but a particularly twisted scene with a gigantic robotic clown truly surprised with its spectacle and made for my personal favourite.
Also remarkable are the talents of the entire cast. You might expect Mary (Stefanie Jones) to outshine the other characters with the titular role and supernatural powers, but each of the cast excelled in their performances as actors, dancers and singers. Jones, Chambers, Wren and Maunder, each shine in their show-stealing solo moments, and you just can't help but fall in love with these characters throughout. The children were extraordinary too, keeping up with the more experienced actors and earning some of the loudest laughs and applause of the evening.
Of course, all of your favourite songs are there, along with some original music for the stage. The cast all share an outstanding talent for singing and high-energy, complex choreography delivered effortlessly results in some top-tier musical theatre.
Supercalifragilisticexpialidocious was a prime example, giving the entire cast a chance to show off just how talented they are.
Whether you're a Disney devotee or a casual musical theatre fan, Mary Poppins is a fantastic night out at the theatre. A high-quality production that's bursting with joy, talent and toe-tapping earworms that'll you'll be humming long after you leave.
Mary Poppins is now playing at Crown Theatre. For tickets and more information, head to marypoppinsmusical.com.au
Leigh Andrew Hill, images: Daniel Boud
---

You can support our work by subscribing to our Patreon
or contributing to our GoFundMe campaign.