Review | Menagerie Choir tell their stories in Odes to the (In)significant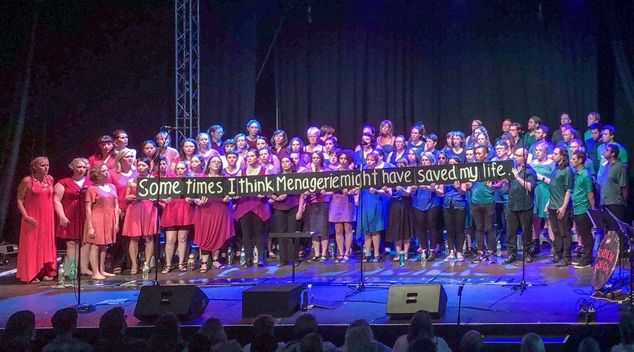 Menagerie Choir's Odes to the (In)significant | Teatro | til 15th Feb | ★ ★ ★ ★ 
Menagerie Choir is a no audition, no experience necessary choral cohort built around a love for singing and being a part of an enthusiastic, supportive, judgement free environment.
Menagerie's show Odes to the (In)significant is unlike any choral performance I've ever witnessed. Led by Sal Banyard who refers to herself as 'The Zoo Keeper' with guest conductor Alex Hill and chorister Tiffany Ha, this ensemble explores everyday treason and those insignificant moments that can have a big impact on our lives through music and spoken storytelling to create a quirky and captivating choral performance. The choir was supported by a string trio and percussionist who brought a unique accompaniment to the ensemble.
Like so many amateur and community choirs, the members come together to share in a uniting experience, however what made this ensemble unique was their passion for indie tunes and emotionally engaging music. Various choristers had input in arranging and conducting the works to suit the specific niche of this choir. Considering the musical diversity of choir members, I felt that the repertoire may have benefited from greater cohesion in their arrangements for a more vocally secure concert. While at times the performance was technically lacking, the energy and passion from the choristers gave a soul nourishing performance.
Through storytelling and personal accounts, many choristers shared moments and memories that expressed the quiet rebellion in their lives. These accounts highlighted feelings of some of the suffocating elements of societal expectations in a symbolic protest driven by their love for indie music. Singing arrangements of work by the likes of Ben Folds, Regina Spektor and an interactive singalong to The Whitlams I Will Not Go Quietly the audience were clearly enthralled and very moved by song choices.
To me, Fringe is about connecting people with the arts and this ensemble epitomised the beauty and prolific impact that the arts can have on us in a way that cannot always be easily communicated.
This was a concert like no other; it was unique and emotional, driven by eclectic music choices and equally individual performances. Music can unite individuals and groups from all walks of life and the success of this was evident in the musical celebration of Odes to the (In)significant. It was a privilege to be invited to share these moments together in an unforgettable concert.
Menagerie Choir's Odes to the (In)significant till be at the Teatro in the Pleasure Gardens until Friday 15th February. Tickets and more information available from fringeworld.com.au
Claira Prider