Review | Mwajemi Hussein carries 'The Survival of Kindness'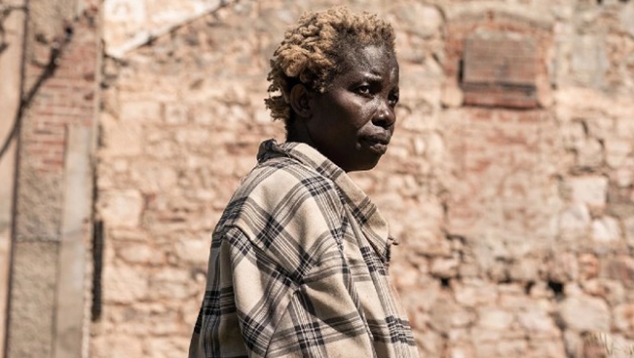 The Survival of Kindness | Dir: Rolf de Heer | ★ ★ ★ ★ ★ 
Dutch-born Australian Rolf de Heer has been a director to look out for since his radical film Bad Boy Bubby stunned audiences in 1993. His friendship with the late David Gulpilil and collaboration with Indigenous communities has allowed him to create a trilogy of films (The Tracker, Ten Canoes and Charlie's Country) showing Australia's colonial history from the point of view of its original inhabitants.
His latest film opens with a group of white-skinned people celebrating the massacre of dark-skinned people. Racial atrocities are not confined to one country or one time. They could be in any country and in any era (past, present or dystopian future) as the fable follows the journey of a Black woman (identified in the credits as BlackWoman) who has been locked in a cage on the back of a trailer in the middle of a desert.
The film was scaled down from its original proposal as it was shot during Covid lockdowns in South Australia and Tasmania (the two states that had the least Covid restrictions) with a very small crew. BlackWoman escapes from her prison and the camera stays with her as she walks from the desert to canyon to mountain to city. Her pace is steady and the audience see death, devastation and destruction through her eyes.
It is a world left desolate by conquerors that have replaced nature with machines, and killed or enslaved anyone who didn't have their skin colour. There is not much dialogue, but what there is, is purposely gibberish. Each group of people seem to have their own language that isn't understood by people who are different from themselves.
The weight of this allegory about racism is totally on the shoulders of BlackWoman who is actually portrayed by Mwajemi Hussein – who had never been in a cinema and certainly didn't know about acting. But she did know about walking. Born in the Democratic Republic of Congo, she was forced from her village as a child because of inter-tribal conflict and walked barefoot for three days to another village.
Then later, she walked 600kms to a refugee camp in Tanzania with her husband and children when war broke out. They lived in the camp for eight years before eventually being granted protection by the Australian Government to migrate under refugee visas.
Mwajemi Hussein and Rolf de Heer will be in Perth on Thursday 27 April and there will be a Q&A after the 6.30pm screening of Survival of Kindness at Luna Leederville. Tickets are available from www.lunapalace.com.au
Lezly Herbert
---

You can support our work by subscribing to our Patreon
or contributing to our GoFundMe campaign.