Review | Peter Pan Goes Wrong… and it's spectacular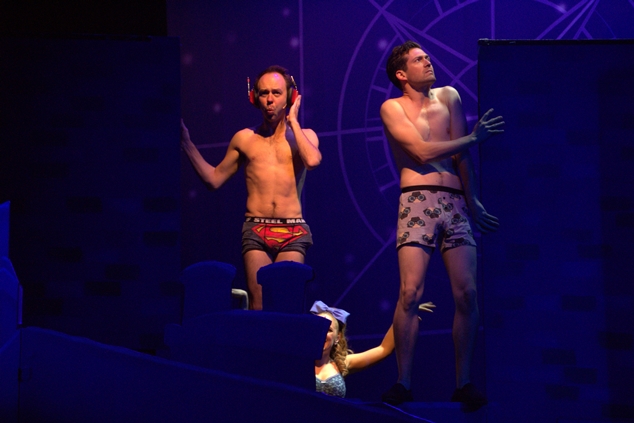 Peter Pan Goes Wrong | His Majesty's Theatre | til 17th March | ★ ★ ★ ★ ★ 
The madness begins before the curtain even rises at Peter Pan Goes Wrong, as the stagehands frantically bustle about His Majesty's Theatre making absurd requests of the audience from amidst the crowd. A giggling audience sets the perfect tone for the lightning-quick lunacy that awaits us in the wings.
Peter Pan Goes Wrong brings the fictional Cornley Polytechnic Drama Society back to The Maj, ready to redeem themselves after the spectacularly hilarious "failure" that was The Play The Goes Wrong. The cast of Peter Pan Goes Wrong take on the mantles of members of Cornley Polytechnic, who are setting out to put on a legitimate performance of J. M. Barrie classic, but we know that's not going to happen.
The brilliant cast each bring something special to the archetypal foibles of the Cornley Polytechnic ensemble. Francine Cain is hilarious as the melodramatic showboat Sandra (Wendy Darling), who delivers each word of her lines with her entire body, Jordan Prosser charms as Cornley's punching-bag-slash-piggy-bank Max and George Kemp is Dennis (John Darling / Smee) who needs to have his dialogue delivered through an ear-piece.
Tammy Weller plays Annie who is lumped with four characters and impossible costume changes, Connor Crawford plays tightly-wound director Chris who honours himself with the meaty roles of George Darling and Captain Hook, Luke Joslin gets into a few jams as Co-Director Robert and Jay Laga'aia pokes a little fun at his Play School legacy as the Narrator.
As in The Play That Goes Wrong, as the cast just try to get through their lines the set begins to fall apart, stunts go awry, props explode, legs are impaled… just when you think it couldn't get any worse, it does – and it's as hilarious as it is impressive.
Every single moment of this production must be tightly controlled; each line and movement leads into a trigger for a physical gag or perhaps even a falling prop, posing a real danger to the team if they aren't totally in sync – adding some truly suspenseful moments between the gut-busting chuckles.
While The Play That Goes Wrong followed an original play that had to be told to the audience as everything falls apart around the cast, Peter Pan Goes Wrong delivers a familiar text – and this production takes advantage of that extra time to cram in as much slapstick, melodrama, malfunctions and explosions as it can. The performance is too much in the best possible way.
Peter Pan Goes Wrong will be at His Majesty's Theatre until Sunday 17th March. Tickets and more information available from Perth Theatre Trust.
Leigh Andrew Hill
---