Review | 'Piaf and Brel' brings together an impossible concert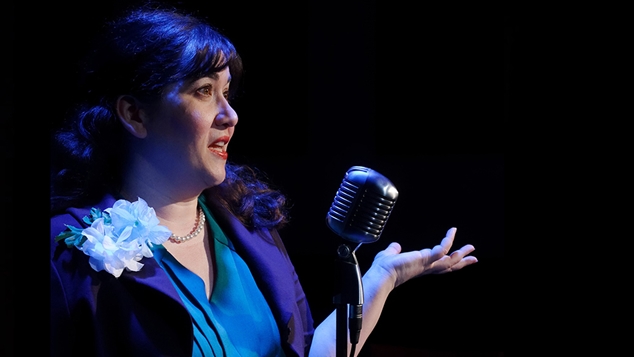 Piaf and Brel: The Impossible Concert | Cheeky Sparrow | til Feb 19 | ★ ★ ★ ★ ★ 
One of the truly great ideas that have surfaced from Fringe World 2023 is the variety of venues on offer from the Edith Speigeltent to nightclubs to small intimate wine bars, where both international and local acts showcase their talents.
Last night's premiere performance of Piaf and Brel: The Impossible Concert was held at the Cheeky Sparrow bar, a quaint bar on Wolf Lane. Where you say? Yes, this historic little cobblestoned laneway runs parallel to Hay and Murray Street and is located near His Majesty's Theatre in the city.
It was the perfect venue for this wonderful one woman show, as it was a very intimate performing space, no raised stage, you could easily reach out and touch, the deliciously clever chanteuse Melanie Gall. Seated on wooden French café chairs further enhanced the Viva le France experience!
Singing Piaf and Brel classics, Gall's alto soprano voice has a wonderful golden tone to it. A classically trained Canadian-born opera singer and music historian (she has six university degrees) she skillfully navigated the French language songs with the right inflection and right tonal quality that these two legendary artists (Piaf and Brel) were so well respected for. No easy feat to achieve and one that Gall did so admirably.
Gall began the show by telling her story about how back home in Brooklyn, NYC that she has a love and affinity with sparrows and that singing in a wine bar named the Cheeky Sparrow was just that something special as well as Edith Piaf's stage name means sparrow in French. A 'Debbie Downer' lady in the front row informed Gall that there are no sparrows in Perth, they were exterminated some years back as they were considered a pest.
Cleverly, Gall was able to skillfully adlib past that comment with great humour and a funny quip, then launched full swing into the crowd-pleasing opening Piaf number Milord. Interlacing the sad and tragic life story of Piaf was a major asset of this show with Gall's amazing memory recall of her script front and centre of this theatre piece. Timing is everything and what was packed into the 60-minute, 12 song playlist not only included Piaf's La Vie en Rose and Padam, Padam, but also Brel's Amsterdam and Moribond/Seasons in the Sun.
Everything in the set playlist felt balanced and well placed, but one stand-out song that is incredibly difficult to sing is Brel's, Vesoul, one which Gall effortlessly performed to the approval of the assembled audience.
As the title of the show suggests, this theatre piece is an 'Impossible Concert' as neither artists ever performed together on the one stage. So, to have these two French music icons collectively together makes this show even more appealing.
Running conjunctively at the same venue is Melanie's other show, A Toast to Prohibition.
Piaf and Brel runs until Saturday 18 February. For tickets and more information, head to fringeworld.com.au
Terry Larder is the founder of Club West (1989-2015) and in this role over those years was the director/producer/compere/drag performer. He is keen to foster goodwill and nurture new and emerging artists both on-stage and off.  He has been a writer for OIP since 2007, and has reviewed numerous shows as well as interviewed and written about Debbie Reynolds, Anthony Callea, James Morrison, Elaine Paige to name but a few. Terry also writes history articles for OIP and university publications. 
---