Review | Summer of the Seventeenth Doll maintains its relevance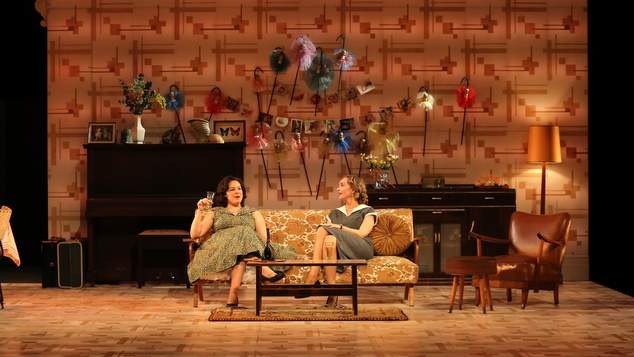 Summer of the Seventeenth Doll | State Theatre Centre | Until 20 May | ★ ★ ★ ½ 
Ray Lawler's classic Australian play Summer of the Seventeenth Doll is his most well-known work, it's been staged everywhere from Broadway to local community theatre and high school productions, it's been a feature film with big name stars, and even turned into an opera.
Black Swan State Theatre Company's production, directed by Adam Mitchell, doesn't mess with the well-known text and features a great cast who nail the characters.
Set in the 1950's Barney Ibbott and Roo Webber are cane cutters who work hard in Queensland most of the year, but in the off-season they travel to Melbourne and spend five months over summer. Here they hang out with local girls Olive and Nancy. Each year Roo brings Olive a gift of a Kewpie doll, this year is the seventeenth time he's purchased such a doll.
Things are different this year though, while the boys were away working, Nancy has gone off and married a bookseller. Olive has roped in her new friend Pearl to join them instead – talking up all the fun they've had in previous years. As the summer progresses, it slowly becomes obvious that many things are changing in the foursome's lives.
Kelton Pell excels as the gruff, moody but ultimately lovable Roo, while Jacob Allen inhabits larrikin mate Barney. They are equally matched by Amy Mathews as the easy going Olive, and Alison Van Reeken as the more uptight friend-replacement Pearl.
Newly graduated Mackenzie Dunn, who was captivating in last year's WAAPA production of 42nd Street, is effervescent and engaging as young next door neighbour Bubba, while Michael Cameron – who is still a WAAPA student – makes an impressive debut with the company. Rounding out the cast Vivienne Garrett gets all the best lines as Olive's mother Emma.
The play is a hard slog, it's two and half hours long including an interval and the first act runs longer than many newer plays entire length. It's a work from a time when a night at the theatre was an entire night out, as where nowadays we might also fit in dinner, a couple of drinks and a late night DJ set.
There are sections of this work which are filled with hilarious comedy, there are moments when it's deeply moving, or tensions are simmering. Between these though are long periods where it's exceptionally boring. Maybe it's just a work of another time, but overall it feels like it could have been, and might have benefited from, being considerably condensed.
More than sixty years after it's debut, Lawler's play still holds a mirror that reflects Australian society. How many FIFO workers have returned home to discover their households have dramatically changed while they've been away? How often to our lives fall into a pattern of predictability? How often are debating ideas centered around masculinity, equality and morality. It's still a rich source of ideas and discussions.
What is very interesting is how Black Swan have structured their entire program for 2018. The productions are presented as a series of conversation with plays juxtaposed against each other, an opportunity to compare and contrast works that tackle similar themes.
Their next production, the Western Australian premiere of Taylor Mac's Hir, opens on Saturday night in the Theatre Underground. Like Lawler's work, it features a man returning home after some time away from those he loves, only to find everything has changed. It also touches on themes of masculinity, identity, change and morality.
While Summer of the Seventeenth Doll is a work that has been discussed exhaustively, it's one of those plays thrust upon school students for generations, the company have found a way to revitalise discussion of it's themes through their programming approach. While both are productions you can watch independently, consuming both plays is highly recommended for those who want to think deep and debate the issues.
Tickets to Summer of the Seventeenth Doll are available from Black Swan State Theatre Company
Graeme Watson, Images: Philip Gostelow
---