Review | Twin comedians deliver big laughs with 'Pear'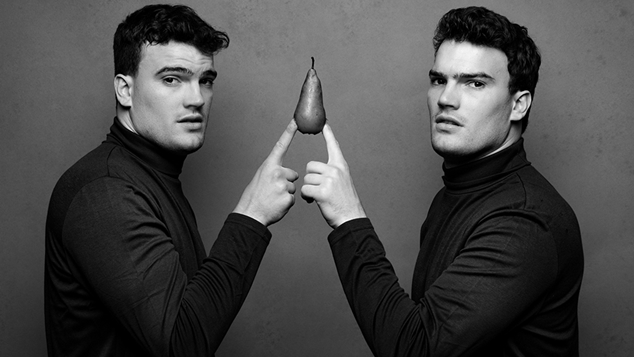 Pear | Perth Cultural Centre | til Feb 19 | ★ ★ ★ ★ ★  
As I write this review we've Don't Tell The Bride UK version on the TV, in the background. We've arrived home from tonight's Fringe World Festival offering – Pear.
 I've made dinner for the fam and now I'm able to reflect on the performance. Weirdly, the groom in the episode we are watching has his best man, also his twin brother, helping him organise his wedding. I say 'weirdly' because Pear features twin brothers Hugo and Patrick McPherson in their two-man comedy show.
While the McPherson's twinship is a theme in the performance, it's not a gimmick they need to rely on at all. The Fringe website blurb about Pear mentions that Hugo and Patrick are very tall, but their height is dwarfed by their talents.
Full disclosure; when OUTinPerth were gracious enough to allow me to review Patrick's one-man Fringe World offering Colossal I loved it. At the end of that show he announced Pear would be running it's own season and I asked if I could please review Pear also. Pear comes fresh from five-star reviews at the Edinburgh Festival.
A premise of the show is the brothers spending an astonishing amount of money for an hour with a well-known director. He to advise them on their craft and them to soak in his wisdom. No spoilers but this reviewer was surprised when the brothers didn't mention the director's very famous ex as a reference point for the audience – it's certainly why I'm familiar with him!
This show is family-friendly for tweens and teens and an absolute bargain with a ticket price of $20. It runs from tonight until 19 February, and young people can attend with a parent or legal guardian. The show is at 6pm, for an hour. This leaves plenty of time to have dinner afterwards or catch another show.
My partner ushered me into the front row for Pear, which isn't his style at all! As we discussed the performance on the way home he noted that he smiled throughout the performance and genuinely laughed and applauded in many parts! Given the stiff upper lip my partner generally rolls with, this is high praise indeed. The show is great! Definitely go see it! Hugo and Patrick are enormous talents and they manage to make the hour fly past. Engaging is an understatement; you leave wishing them every success, so invested in them do they manage to persuade the audience to be.
Speaking of the audience – a huge shout out to 'Stephano' for volunteering to go up on stage and for 'Charlotte', 'Towel' and 'the Reviewer' to my left (not their real names!) for their participation. Stephano in particular took one for the team and sincere thanks must go to him for putting us all out of our collective, brief, awkwardness!
Hilariously, Hugo and Patrick have a bit in the show where they refer to a couple of people in the front row as 'Reviewers'. 'Charlotte' was at the end of the row to the right of my partner and, at the beginning of the show, was referred to as possibly being a reviewer for another publication that can remain nameless behind it's irritating paywall.
Later on, as mentioned, the man to my left played his part as a 'reviewer'. It tickled me hugely that the people literally either side of my partner and I had been singled out in this way, while I was there to review Pear for a publication reliable for generating Fringe World buzz. Hugo and Patrick don't seem genuinely concerned with what anyone thinks of their performance. Their strength is in their ability to have a blast together and bring the audience along for the ride.
As we exited the venue I heard an exchange between patrons behind us.
"Have you been to Fringe Shows before?"
"Yeah!"
"Are they all that funny?"
"Nah! Some of them are shit!"
Pear is that funny and most certainly not shit.
Pear runs as part of Fringe World until Monday 19 February. Tickets at fringeworld.com.au
Kate Salinger is a proud PFLAG+ Perth Mum, with a once upon a time background in dramatic arts. Kate enjoys writing and photography and active resistance of oppression. 
---

You can support our work by subscribing to our Patreon
or contributing to our GoFundMe campaign.