Ricki Lee: True Diva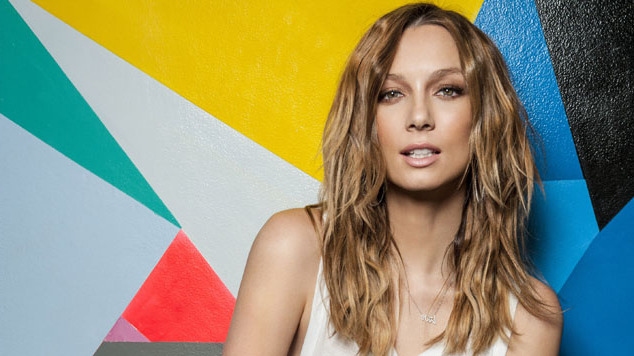 Things have been busy for Ricki-Lee. She's just released her fourth studio album and has been kicking up her heels on 'Dancing with the Stars'. As she chatted to OUTinPerth, she was in the midst of getting ready for yet another event.
"It's crazy." Ricki-Lee said breathlessly over the phone. "We woke up this morning and we had a big rehearsal and I just flew into Sydney just then and I'm about mid getting ready to go to something else as well so it's craziness, but it's fun. I live for that craziness."
The singer was still recovering from a performance on 'Dancing with the Stars' the night before that had her doing the foxtrot in a voluminous blue dress and matching scrunchie. "It was spectacular. That's probably the word to describe it." She laughed.

"It's really funny, even when we were doing sittings, the whole time I was like 'Oh God, this is awful. ' and as soon as I put it on and it was like the glasses and the hair and makeup I was like 'This is fabulous!' I just thought it was the greatest thing ever. You've got to make friends with the costume peeps."
Ricki-Lee said she was a natural ally to the wardrobe department at 'Dancing with the Stars' because she adores dress ups. "I love getting into the character of whatever I'm doing and just committing to whatever it is and really going to the extreme. And they really love that, and they have fun with that. They appreciate my willingness to get crazy with costumes."
Ricki-Lee's new album also fits in with the dancing theme. Not just for its title, 'Dance in the Rain', but for its melodic numbers she hopes will get everybody going on the dance floor. The album has been two years in the making, and the singer is both thrilled and tentative to let the public hear what she's created.
"It's nice to finally release it, you know. Because I've wanted to for so long and when you work on something for so long, you live and breathe it and so when you finally release it, it's a mix of emotions. It's a little anxious and then you're nervous and you're excited and I'm really proud as well. I have been dying to release it and love the songs that I've been working on."
According to Ricki-Lee, one of the advantages of taking two years to develop an album is the space for experimentation. On this album, she's tried her hand at a number of different genres.
"I think the best thing with an album is that people get to pick and choose." She said. "There's a lot of the gays that are loving the club songs and people that are picking out a song called 'Criminal' that's got a bit of a reggae vibe to it and they're loving that because it's something fresh and new and then there's the other people who have been dying to hear ballads from me for years and they get quite a few on this album."
The singer said she kept her fan base in mind when creating the album, including a large number of gay fans. "I really do have such a strong gay following and it's been from the very beginning. I'm never quite sure why, but I'm like a magnet for gays, and I'm ok with that. I love that." she laughed.
Always happy to get the gay-bar dance floor going, Ricki-Lee shared a fond nightlife memory. "I remember a couple of years ago when I released 'Burn it Down', the night that it was released I went for a walk along Oxford Street. I was at a friend's house not far from Oxford Street in Sydney and I walked down Oxford Street, we were going to get some dinner and as I walked past there was this fabulous queen onstage, living and giving her all singing 'Burn It Down' with a dress that had flames all over it. And I walked in and it was just amazing because I was like 'Oh my god! I just released this song!' It was really cool."
Ricki-Lee was inspired by the experience, as evidenced by the song 'Diva' from her new album. "I was picturing a performer onstage, whether it's a stripper, a drag queen, even you're out with your girls, or your gays or your girrrls, everyone's getting ready and everyone just is so fierce.
"I was imagining guys sitting around at a strip club watching a girl do the most amazing pole dancing along to 'Diva'. And I was imagining the biggest gay club and the most amazing, fabulous, fierce, big-haired, long eyelashes, legs up to their armpits, drag queens singing along to 'Diva'.
"It's about letting your ego totally run wild. There's lines in 'Diva' like 'Tell me what you want and I'll give it to you. There ain't nothing that I couldn't do. All eyes on me, you like what you see, I'll bring to life all of your fantasies." It's sexy and it's fierce and it's confident. I love it so much."
Sophie Joske