RTRFM celebrate 40 years and launch a raft of new programs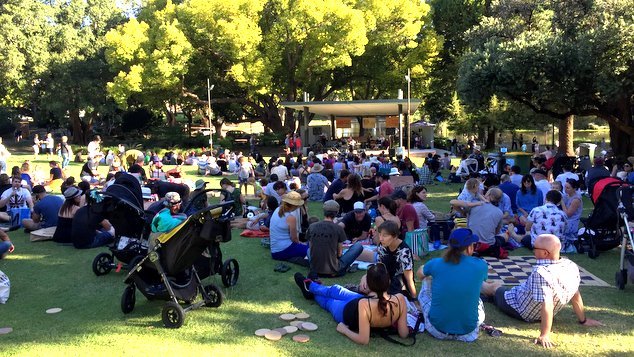 Local community radio station RTRFM are celebrating their 40th birthday and have launched a raft of new programs.
RTRFM celebrates 40th Birthday
The station first went to air on April 1st 1973 and last weekend RTRFM celebrated the milestone of their 40th birthday with Neon Picnic. 
The free concert in Hyde Park saw performances from many local musicians including old favorites like Turntyle, Errol H Trout and The Triffids alongside newer artists including local band Verge Collection.
The event, which was broadcast live, also featured a variety of guests from throughout the station's history.
Bobby Fletcher, who presented on the station for many years, spoke about how he made the iconic Full Frequency theme that rings out at 3pm every afternoon.
Former Talks Producer Anita Bennets (nee Walker) shared her recollections of life at the station when it moved to its current home in Mount Lawley, and longstanding presenter Ross Chisolm revealed he'd been volunteering for 37 of the station's 50 years.
Newly appointed Minister for the Arts, David Templeman congratulated the station on it's longevity and contribution to the local arts and culture scene.
"40 years is a magnificent achievement." Minister Templeman said.
Wendy Birman, the widow of John Birman, recalled how her late husband was inspired to get the ball rolling and create a community radio station in WA more than four decades ago.
"It was a dream he had." Mrs Birman said, "It was his inspiration, he had study leave in America and when he came back with this dream."
The station began it's life as 6UWA, and later changed it's call sign to 6UVS. For the first two decades of it's life it was part of the University of Western Australia. John Birman was the Director of UWA's extension program and the Perth International Arts Festival.
Inspired by college stations in the USA Birman saw radio as a way to extend the University's reach beyond the campus.
Mrs Birman described how hard it was for her husband to get support from the University administrators for the project, but recalled the government had been very supportive.
---

---

New programs added to lineup
The station has just launched a raft of new programs including their first Saturday morning breakfast show.
From Saturday 8th April new show Get Up Morning will air between 6am and 9am. Promises to serve up the best way to start your day on a Saturday the program will feature established and new presenters.
The show will have best conversations from the week before, and it's own fresh, interesting, informative and entertaining talk and tunes.
There will be talk about footy and gaming, music and comedy and more. It will present live music in the studio from local and visiting musicians, and live music RTRFM has recorded at gigs.
Among the other new programs are Midnight Special a late night talk show at 11pm on Thursday nights. While overnight on Saturdays will be a new show called Good Times. Disco Science, the show that plays all kinds of disco has been renamed The Rounds to reflect the changing content of the show.
There's also been changes to the times for some much loved shows. All Things Queer, Indymedia, Revolver, Siamese Dream, Woodstock Rock and Spoonful of Blues have moved in the station's schedule. 
To make way for the new programs a few long running programs have been retired. Nostalgia which focuses on the music of the '30s, '40s and '50s will no longer be on Saturday mornings, but can still be heard on Sundays. Lusophone Beats and Blood Brain Volume have been retired.

Beats Per Minute Signs Off
After more than 31 years on the airwaves, RTRFM's long running program Beats Per Minute appears to have come to an end. The late night dance music program has been hosted by Colin Bridges since it first began in 1985.
On Friday March 31st Bridges ended the show with Tina Arena's You Give Fire to My Life before signing off with a simple "Ciao".  Shortly afterwards Bridges announced he was ending the long running program.
Station Manager Stu McLeod praised Bridges decades of volunteering at the station, saying Bridges and the program would be missed.
"In all of RTRFM's history, there is no other show that has had a sole presenter for that long.
"The sheer dedication shown by Colin is amazing. He has always had a passion for new music and has been delivering it to his audience for over 30 years."
"Thursday nights/Friday mornings won't be the same without crazy German techno and dance floor anthems blaring from the studios at 3am, we will miss you, Mr Bridges. Thanks for the music!" McLeod said.
The show has been replaced with additional editions of Up Late and Snooze Button the station's overnight programs.
Graeme Watson.
Declaration: Graeme Watson is a volunteer presenter at RTRFM, and a former staff member.