Rufus Wainwright's Talent Shines Through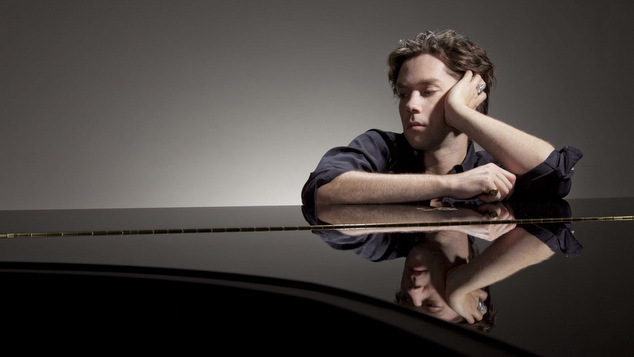 Rufus Wainwright's performance at the Perth Concert Hall  this week was an intriguing mix of casual performance and talented perfection.
Wainwright brought his younger half-sister Lucy Wainwright-Roache has his support act.
Family has always been a big part of Wainwright's story, his father is folk singer Loudon Wainwright III, his late mother Kate McGarrigle was an internationally recognised recording artist. His sister Martha is a successful recording artist too.
Lucy Wainwright Roache sports as similar musical lineage, her mother Suzzy Roache, who performed alongside her sisters in folk band The Roaches.
Lucy charmed the crowd with her quirky folky songs, casual banter and a delightful cover of Bruce Springsteen's 'Hungry Heart'.
When Rufus took to the stage he appeared casually in jeans and a pink blazer. He sat behind a grand piano and created his magic.
Opening up with 'Grey Gardens' Wainwright worked his way through many of his fans favourite tunes. 'The Maker Makes' from the soundtrack to the film 'Brokeback Mountain' was a welcome edition.
The first part of the show was very relaxed. Often Wainwright would often stop a song to make a comment to the audience and then start again. A few times he clearly forgot the words to his own songs, or had a second stab at a section of a song. While this could have come across as unprepared, it felt more like an intimate performance, as if we were just hanging out in the singer's lounge room.
Wainwright performed a new song, about his sister Lucy, called 'Lucy's Blue'. The song which he described as 90% complete had it's first performance, still with bits that didn't quite match up, or lyrics that have not been locked down in concrete – it was an intriguing look into the process of creating a song.
Wainwright also showcased a tune from his first opera. He spoke to the crowd about his recent experience of recording the work with the BBC Symphony Orchestra. He also performed one of Shakespeare's sonnets that he'd set to music.
During the show Wainwright delivered a stack of tunes including 'Vibrate', 'Beauty Mark', 'Montauk' and 'The Art Teacher'. He left the piano and grabbed a guitar to deliver 'Out of the Game', 'Want' and 'Jerico'.
As the show progressed towards it's conclusion the real magical moments happened. Hearing Wainwright sing 'Cigarette's and Alcohol' was a treat, and Lucy Wainwright Roache returned to sing 'Pretty Things' and Leonard Cohen's 'Hallelujah'. (Another family connection – Cohen is grandfather to wainwright's daughter).
The final song of the night was 'Poses', the title track from Wainwright's second album. His voice echoed around the auditorium, a truly beautiful sound that reminded us why Wainwright is one of the great performers and songwriters of our time.
Graeme Watson